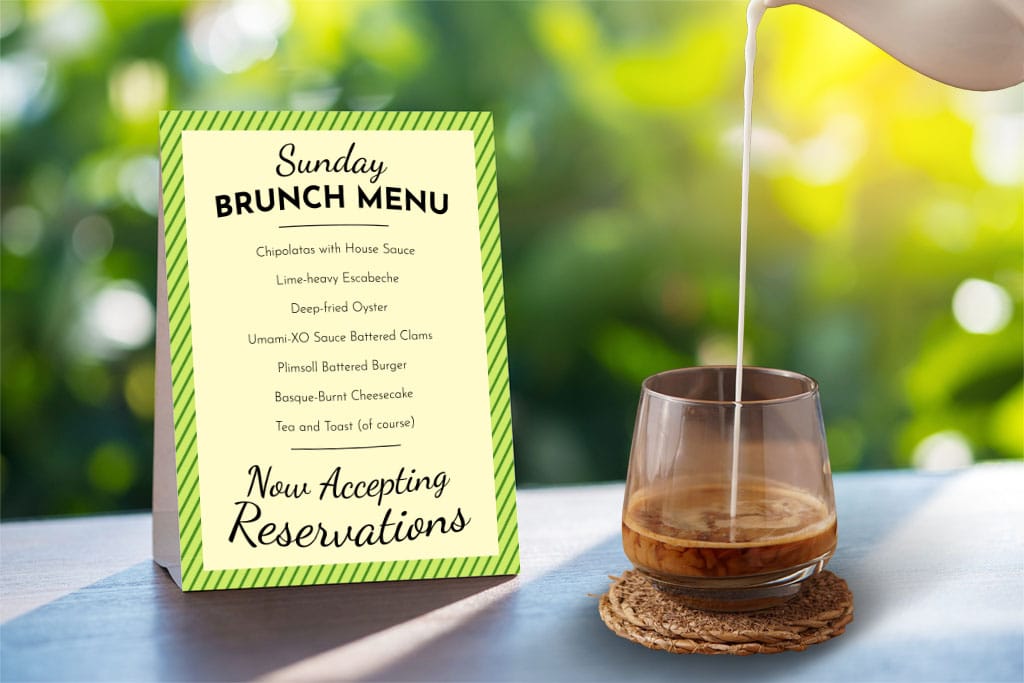 The good news for restaurants is that consumer support remains high. Around 58% of consumers dined out more often than ever in 2022. So, how can you use table tents to stand out from the crowd and increase your restaurant's success in 2023?
With hundreds of thousands of restaurants in the US, it can be tricky to know how to entice customers. A solid marketing strategy is critical, including having restaurant promotions and events. These are great ways to encourage customers to return and attract new leads, but you need to know how to market your offerings efficiently to reap their benefits.
One strategy is using table tent marketing. Read on to learn everything you need to know about this successful marketing strategy.
What Are Table Tents?
Table tents are sometimes compared to mini billboards, but instead of being placed on the highway, they are placed on tables in your restaurant to capture your client's attention. They have a tent-like shape once printed and are free-standing, so they can be placed in a variety of high-visibility spaces.
It can be hard to share all the discounts or promotions you offer when customers come to your restaurant. After all, the average human attention span is only 8.25 seconds, so your interaction during this time can make or break their initial impressions. How do you find the balance between informing and not bombarding them with information?
While posters and menus can be effective, consumers often only see them for a fraction of the time they spend in your restaurant. Whereas table tents can be sat on their table for them to read at any point during their meal, capturing their attention at the perfect moment and sharing vital information they can take the time to retain.
Table Tent Marketing
Table tents are an effective marketing tool that can be used in various ways at your restaurant. They can be combined with promotions and events, enhancing restaurant success. For example, US bars and restaurants generate 60.5% of average weekly sales just from the happy hour!
Restaurants with outdoor seating often place table tents here, too, so potential customers can see specific promotions before entering. They can also be placed in other locations, if you have permission, to increase your business's visibility.
Promote Seasonal Specials
A great way to use table tent marketing is to promote seasonal restaurant specials, such as your new seasonal creations or a dish of the day. You can also share promotions for cost specials that keep your margin high, such as family or couple prices for a three-course meal.
You can use the table tents to share photos of the dishes or give extra information about specials that are not included in the menu or are easily shared by the server.
Share Specific Seasonal Menus
You can put specific menus on table tents, such as holiday menus, which draws consumer attention to them immediately. They are a great way to showcase your holiday dishes, encouraging consumers to consider their plans for upcoming holidays. Include all the information you need to demonstrate to consumers that you are the restaurant they should visit to celebrate a specific holiday.
Upsell Your Menu
Promotions do not only include specific deals your restaurant has on at a particular time. You can also use table tent marketing to display some of your most popular dishes, which can encourage consumers who are debating whether to opt for a dessert or skip it. An attractive table tent advertising your desserts will help them commit.
You can upsell various items, including dishes that may be more expensive, but with more explanation, consumers will be drawn in and tempted to try them.
Promote a Loyalty Program
Table tents offer the perfect opportunity for consumers to sign up for a restaurant loyalty program. After all, 64% of consumers and restaurant owners place importance on gift card applications, which a table tent can easily connect to. Consumers have time to read through all the details and sign up during their meal, which can increase the number of customers you retain for your business.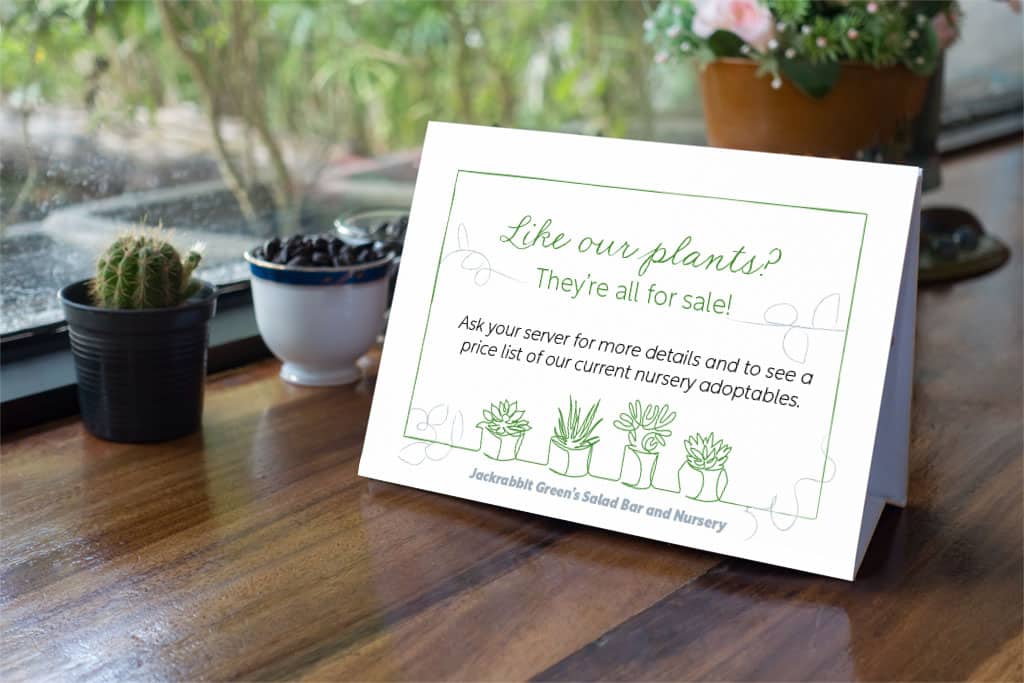 Sell Seasonal Merchandise
Table tents at restaurants do not only promote restaurant dishes and loyalty programs. They can also promote any merchandise you sell. Often, customers do not have time to check out merchandise or want to stay at their table during their restaurant experience, which is why table tents offer a convenient way for you to promote other items you have on sale.
Share Seasonal Event Information and Services
Hosting an event at your restaurant is the perfect way to retain customers, increase profits, and attract new guests. Events may include stand-up nights, live music, open mic, or charity events.
While you can leverage your online platforms to promote events, customers that have visited your restaurant already trust you and know the space. Table tents can encourage them to return, and you can even include a table tent design that lets them RSVP to the event, such as through a QR code. QR codes and payments are expected to grow by 240% by 2025, so it is the perfect time to cater to changing technology and meet consumer expectations.
Table tents for promotions can also advertise your restaurant services for hosting events. For example, if you rent out your restaurant space or offer catering services. Some table tent designs include two sides, so you can include specific event information and general event services at the same time.
Table Tents for Promotions and Reviews
Table tents offer ways to seamlessly share promotions that are difficult to share in other formats. For example, table tents can help you get prompt customer reviews for your restaurant, which can help boost its reputation and visibility.
You can include a QR code and advertise that customers can leave an online review at your restaurant to get a free dish or a certain percentage off the check. You can also offer this deal for their next visit, which can increase customer retention rates.
Benefits of Table Tents
Table tents offer benefits in a range of different industries, including hospitality. You can use them at events, tradeshows, conference centers, hotels, stores, and in your restaurant. Here are some of their top benefits.
Increase Brand Awareness
Table tents can increase your brand visibility for your restaurant, especially if you work with other establishments that are happy to share your table tents. People will recognize the branding and associate it with your establishment. Table tents are also the perfect way to share your restaurant's mission and promote your restaurant's services in a way that allows people to retain the information.
Build a Relationship With Customers
Offering promotions with technology, such as QR codes on your table tents, allows you to generate more leads. For example, you can get consumers to sign up for your newsletter to receive a specific promotion. This helps you build a relationship with consumers and easily connect with them to share future promotions.
Generate More Leads and Increase Sales
Table tent cards are visible with flexible design choices, so you can quickly attract your target customers. Table tents often save consumers time, as they do not have to spend hours searching for the best restaurant if a table tent with relevant information and links is in front of them. They are the perfect marketing tool, especially during popular holidays, when you need to stand out from competitors.
As table tents are miniature billboards, they can attract more consumers and, as a result, increase sales. You can also increase sales as more consumers will be aware of your promotions, and you can upsell restaurant products, resulting in revenue boosts. You can also see revenue boosts as more consumers will know about your events, increasing the number of attendees.
Cost-effective and Efficient
Table tents are a cost-effective marketing solution for many restaurants. They offer many benefits, including increases in promotion and event engagement.
And the good news is that they also do not demand expensive start-up investments. They are a simple, inexpensive, and efficient way to improve your restaurant's success.
Table tents are also time-efficient. You can also use templates and get design support, so you can use your table tents quickly without worrying about spending weeks on the design or marketing strategy.
Flexible Table Tent Designs
Table tents offer a blank canvas or template to create a design that fits your restaurant's promotional message. You can design the perfect advertisement for your promotions and events, with flexible options on sizing, graphics, and colors. You can also pick a knowledgeable company to print your table tents, which can also offer advice on how to optimize your table tent design.
Boost Social Media Follows
Table tents work well with other forms of restaurant marketing, such as social media platforms. You can connect promotions and events on table tents to social media platforms.
For example, customers can RSVP to an event through social media or share an event to utilize a promotion. This can help boost your social media platforms and engagement, which also helps increase brand visibility. 63% of consumers say discounts and promotions online are essential to them, which makes table tents a perfect way to bridge the gap between in-person marketing and the digital world.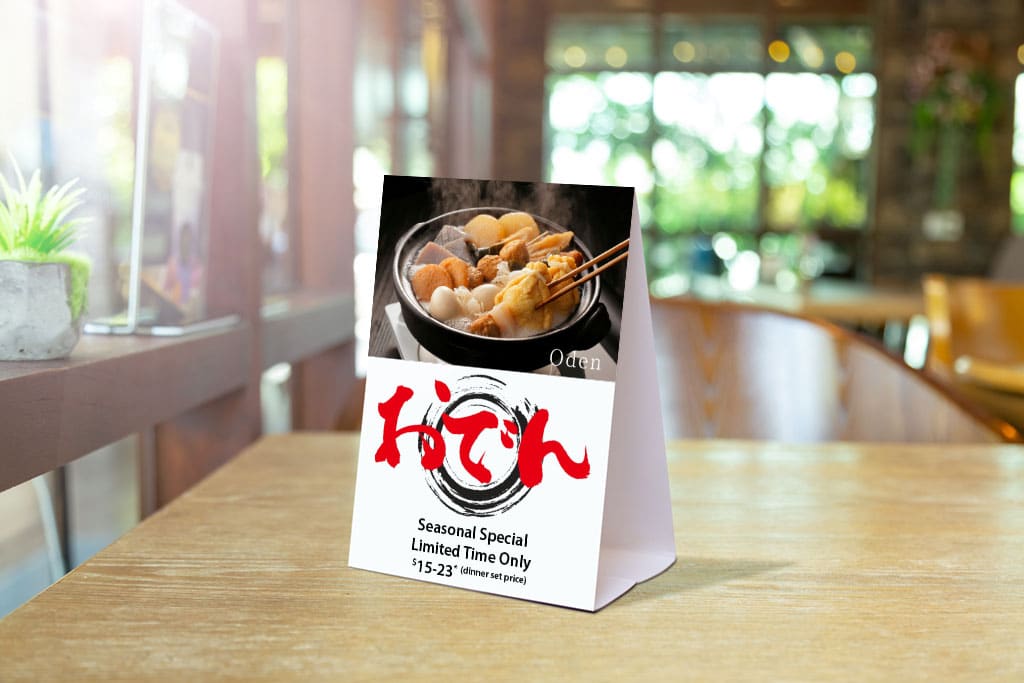 Enhance Server Interactions
Table tents can improve server efficiency and customer service. Servers can signpost customers to the table tents and focus on answering specific questions instead of spending time listing promotions. They can focus on customer service instead, efficiently using their time at each table and meeting customer needs without worrying about forgetting specific menus or promotions.
Seasonal Table Tent Design Tips
When using your table tents for seasonal restaurant promotions and events requires some planning. You want to ensure the design is attractive, true to your business, and the seasonal promotions you wish to share. Here are some table tent design tips to get you started:
Focus on your target audience
Use attractive fonts that stand out
Pick relevant and high-quality graphics
Deliver a concise message
Use a professional service
It can be tempting to get carried away with the many types of designs, fonts, and graphics available for table tents. However, you want to focus on your target customer, so what is relevant to your brand?
Poor-quality graphics, fonts, or inappropriate colors can quickly turn consumers off. Too much information on a table tent can also be overwhelming for consumers. Keep the message concise, with relevant information such as contact information or menu prices.
Also, consider colors carefully. Different colors can provoke different emotions, such as yellow being associated with optimism. If you are unsure where to begin, consider a professional service.
A professional service will have experience creating table tents at restaurants. They will know what works well and can help bring your vision to life. They will help keep your design professional, targeted to the season, and the right audience.
Things To Know About Table Tents
There are several steps to designing table tents. These include:
Sizing
Type of table tent
Material
They typically come in half or full sizes. A half size is suitable for a standard table, whereas a full-table tent is better for larger spaces.
You can also find table tent cards, which work similarly to business cards. A popular choice is the double-sided table tent, which allows you to show seasonal events and promotions on both sides. You usually print onto thick paper with a matte or gloss finish.
Why You'll Love Our Restaurant Table Tents
There are many benefits of table tents. They are the perfect way to promote seasonal events and promotions for your restaurant. However, not all services offer the same quality table tents.
If you want quality table tents, look no further than PGprint. We can meet all your custom print and design needs, including creating your dream table tents that will help enhance your restaurant's success. Contact us today to get started with your own table tents.