Available in TWO sizes: (horizontal & vertical)
Color on ONE or BOTH sides
Custom design your own menus
Use with industry-standard menu covers
Estimated shipping rates based on commercial address
There is a great deal that can be done with a flat menu. Overall, flat menus are one of the most versatile menus to use. PGprint offers them in a wide range of paper choices and sizes. Options range from notecard-sized flat menus, large legal-sized flat menus to your very own custom flat menu.
The smaller flat menu is an ideal elegant addition for an afternoon bridal or baby shower luncheon or at a formal sit-down dinner for a wedding party. PGprint's larger flat menus are equally adaptable for family dining and can be laminated to be used as a placemat for diners in your restaurant. Many restaurants also opt to use one side of a custom flat menu for the actual menu, whereas they choose to have the other side feature games, mazes, word search puzzles, and even pictures for children to color. These custom flat menus are a great way to occupy young children while they wait for their meal.
Even though PGprint's flat menu printing is economical, it by no means sacrifices quality. When you come to PGprint, you can always expect to receive the most professional results and quick turnaround time. Complete customer satisfaction is our ultimate goal and is what drives us to excel in our industry. Our success depends on your success. As a result, we encourage our flat menu customers to bring their thoughts, ideas, questions and concerns to us. We will always strive to not only meet your expectations, but to repeatedly surpass them.
Call us at 888.288.7518, use our chat service, or email us at [email protected] to learn more about our flat menus. We look forward to helping you achieve your objectives and for the opportunity to serve all your printing needs, now and in the future.
Flat Menu | Flat Menus | Custom Flat Menu
Flat Menus Templates
PGprint product templates provide the specifications required to ensure your artwork is print-ready. The template files are PDF formatted documents that are inserted directly into your artwork to provide guidelines for size, bleed, trim and folding. Remember to remove our template from your final artwork before submitting your files to our servers.
2.75″ x 4.25″ Flat Menus Template
Download
3.66″ x 8.5″ Flat Menus Template
Download
4.25″ x 5.5″ Flat Menus Template
Download
5.5″ x 8.5″ Flat Menus Template
Download
8.5″ x 11″ Flat Menus Template
Download
8.5″ x 14″ Flat Menus Template
Download
17″ x 11″ Flat Menus Template
Download
25.5″ x 11″ Flat Menus Template
Download
Convert your file to pdf format

here

.
You can upload your own custom design and see a live preview. You approve, we print and deliver.
Guidelines To Go By
We want to make sure your print project goes how you envision it. Be sure to use our layout guides to ensure your file(s) is set up correctly for best printing results.
Color Mode
CMYK is preferred and recommended. If you upload your file in RGB color mode it will be converted to CMYK and the final product could end up differently than expected.
Resolution
Files are preferred to be at 300 dpi for best print quality. Files lower than 300 dpi could result in "pixelation" of images.
File Types Accepted
We prefer PDF files but also accept PSD, JPG, TIF, DOCX, PUB, EPS, PNG or AI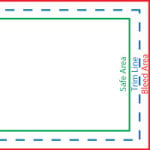 File Setup
Creativity shouldn't have limits, but there are some file setup guidelines that should be observed when preparing your file for print.
Safe Area
Text and other design elements that you don't want to get trimmed in final production should stay within this area. The safe area is minimally 1/8″ from the Trim Line.
Trim Line
This is where the finished product will be cut for its final size.
Bleed Area
This is the area that is going to be cut off in final production. Make sure this area is filled with background image and/or color so there is no white space left when it is trimmed.
Customer Reviews – Flat Menus