Custom sizes now available!
Wide variety of paper choices!
Full bleed at no extra cost!
One and two sided color options.
Estimated shipping rates based on commercial address
Buck slips, also spelled as buckslips, are just one of many unique and affordable ways to market your brand and promote your business. Originally, the buck slip was a slip of paper about the same size as a dollar bill – hence the name. The size of a buck slip has changed a bit over the last couple of years. It is most often small enough (about 8.5" x 3.5" or smaller) to slip into a standard-sized envelope. Though it is small, the impact of buck slips can be mighty when it comes to showcasing your company's business logo and message out into the public domain. This is when you are going to want to rely upon the talent and expertise of the professionals at PGprint to assist you in designing a buck slip that will highlight your brand, promote your company's philosophy, and grab the attention of your prospective clients in a clear and concise manner.
PGprint can step in and help you customize your buck slip, so that it accentuates everything positive about your business and attracts the attention of the recipient. Our goal is to ensure that you are able to be competitive now and well into the future. It is a time to be bold. PGprint will work to create the most attractive and attention-grabbing image on your buck slip, with a well-constructed and succinct message that speaks to your company's ideals. PGprint also suggests that you can use buck slips as inserts in other customer mailings, attach them to receipts or stick them in your business's shopping bags.
To discover more about PGprint's buck slips, call us at 888.288.7518, use our chat service, or email us at [email protected] to learn more about our printing services.
Buck Slips | Buckslips | Buck Slip
Buckslip Templates
PGprint product templates provide the specifications required to ensure your artwork is print-ready. The template files are PDF formatted documents that are inserted directly into your artwork to provide guidelines for size, bleed, trim and folding. Remember to remove our template from your final artwork before submitting your files to our servers.
You can upload your own custom design and see a live preview. You approve, we print and deliver.
Guidelines To Go By
We want to make sure your print project goes how you envision it. Be sure to use our layout guides to ensure your file(s) is set up correctly for best printing results.
Color Mode
CMYK is preferred and recommended. If you upload your file in RGB color mode it will be converted to CMYK and the final product could end up differently than expected.
Resolution
Files are preferred to be at 300 dpi for best print quality. Files lower than 300 dpi could result in "pixelation" of images.
File Types Accepted
We prefer PDF files but also accept PSD, JPG, TIF, DOCX, PUB, EPS, PNG or AI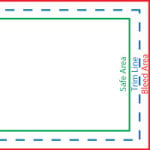 File Setup
Creativity shouldn't have limits, but there are some file setup guidelines that should be observed when preparing your file for print.
Safe Area
Text and other design elements that you don't want to get trimmed in final production should stay within this area. The safe area is minimally 1/8″ from the Trim Line.
Trim Line
This is where the finished product will be cut for its final size.
Bleed Area
This is the area that is going to be cut off in final production. Make sure this area is filled with background image and/or color so there is no white space left when it is trimmed.
Customer Reviews – Buckslips