Video Greeting Cards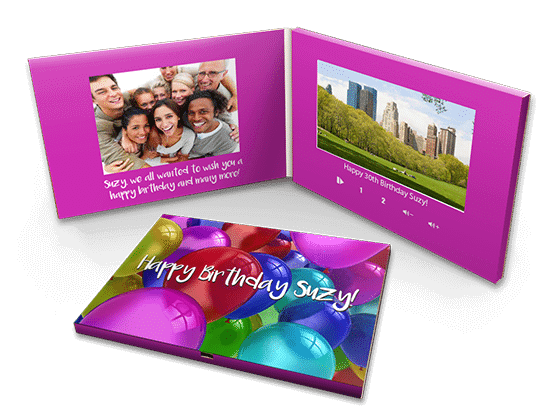 Cutting-edge technology allows you to upload a personal video.
Select from several popular templates.
Beautiful soft-touch finish.
Create a lasting memento of your special event.
Estimated shipping rates based on commercial address
Video Greeting Cards
To create a unique and personalized Video Greeting Card, simply choose from one of our popular themes, such as birthday, wedding, or anniversary, easily change background colors, photos, and copy, upload one, two, or three videos, check our proof, and place your order. A personalized Video Greeting Card will show how much you care, and will create a lasting memento of your special event.
To use our templates, begin by selecting a theme, then follow these three easy steps.
Step 1: In the "Background Tools" menu, you can change the background color by selecting "Set Background Color," or place an image in the background by selecting "Set Background Image."
Step 2: In the "Image Properties" menu, you can double click on any of the placeholder images and drop in your own photos.
Step 3: In the "Text Properties" menu, you can click on the placeholder text and type in your own text. Both type fonts and colors can be easily changed to suit your own specifications. Once you have customized your Video Greeting Card, click the "Continue" button, name your design, and you will be automatically directed to the proofing page where you can proof your design and finalize your order.
Remember, themes can easily change with new text or graphics. For example, if you like the balloon background in our Birthday theme, change "Happy Birthday" to "Congratulation" and this theme becomes a graduation greeting. If you're creating a greeting for a young man, change the pink background to blue or use a school color. The only limits are your own imagination!
Themes:
Birthday
Graduation
Bachelor/Bachelorette
Wedding
Anniversary
Product Launch
Retirement
Video Recording Assistance
Having difficulty recording professional-quality videos with your smartphone? The videos below, courtesy of Primal Video, will teach you how to get the most out of your device.
---
How to Film Professional Videos with an Android Smartphone:
---
How to Film Professional Videos with an iPhone: