Great for Use in Hotels and Resorts
Attract Customers Not Familiar With Your Area
Perfect Non-Intrusive Advertising
Custom Design Your Own Rack Cards
Estimated shipping rates based on commercial address
Rack cards are one of the most ideal means of promoting your business and connecting with people on the go. They can be placed just about anywhere. PGprint's rack cards offer some excellent options. They are great for:
Attracting customers unfamiliar with your community
Delivering non-intrusive marketing and advertising
For use in airports, churches, offices, gift shops, hospitals, hotel lobbies and rooms, museums, restaurants
A rack card provides an individual with something to remember your company by and is a wonderful way to market your ideas. Whenever individuals are looking for a quick and sure-fire way to create a lasting impression, the only resource they need is PGprint.
The specialists at PGprint are able to assist clients in choosing the most stimulating and colorful designs that will catch the eye of a prospective customer. The composition of a rack card with its colors and design has only a few seconds to capture the attention of a customer. Time is certainly of the essence, and that is why you will no doubt want to receive the best professional assistance from the PGprint team about how to capture attention and sustain it. With PGprint's distinct and affordable rack card printing, you will be able to appeal to the customers you may have missed in the past when you employ our team's recommendations.
Allow our exceptional team of professionals at PGprint to help you navigate the rocky waters of marketing your company's business with the best rack card printing available. Our rack cards feature the highlights of your services or products and are designed to be placed in the high foot-traffic areas of your prospective clients.
PGprint is distinguished for going above and beyond the call of duty when it comes to best representing our clients. To learn more, please call us at 888.288.7518, use our chat service, or email us at [email protected] to learn more about our printing services.
Rack Cards | Rack Card | Rack Card Printing
Rack Card Templates
PGprint product templates provide the specifications required to ensure your artwork is print-ready. The template files are PDF formatted documents that are inserted directly into your artwork to provide guidelines for size, bleed, trim and folding. Remember to remove our template from your final artwork before submitting your files to our servers.
You can upload your own custom design and see a live preview. You approve, we print and deliver.
Guidelines To Go By
We want to make sure your print project goes how you envision it. Be sure to use our layout guides to ensure your file(s) is set up correctly for best printing results.
Color Mode
CMYK is preferred and recommended. If you upload your file in RGB color mode it will be converted to CMYK and the final product could end up differently than expected.
Resolution
Files are preferred to be at 300 dpi for best print quality. Files lower than 300 dpi could result in "pixelation" of images.
File Types Accepted
We prefer PDF files but also accept PSD, JPG, TIF, DOCX, PUB, EPS, PNG or AI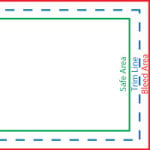 File Setup
Creativity shouldn't have limits, but there are some file setup guidelines that should be observed when preparing your file for print.
Safe Area
Text and other design elements that you don't want to get trimmed in final production should stay within this area. The safe area is minimally 1/8″ from the Trim Line.
Trim Line
This is where the finished product will be cut for its final size.
Bleed Area
This is the area that is going to be cut off in final production. Make sure this area is filled with background image and/or color so there is no white space left when it is trimmed.
Customer Reviews – Rack Cards