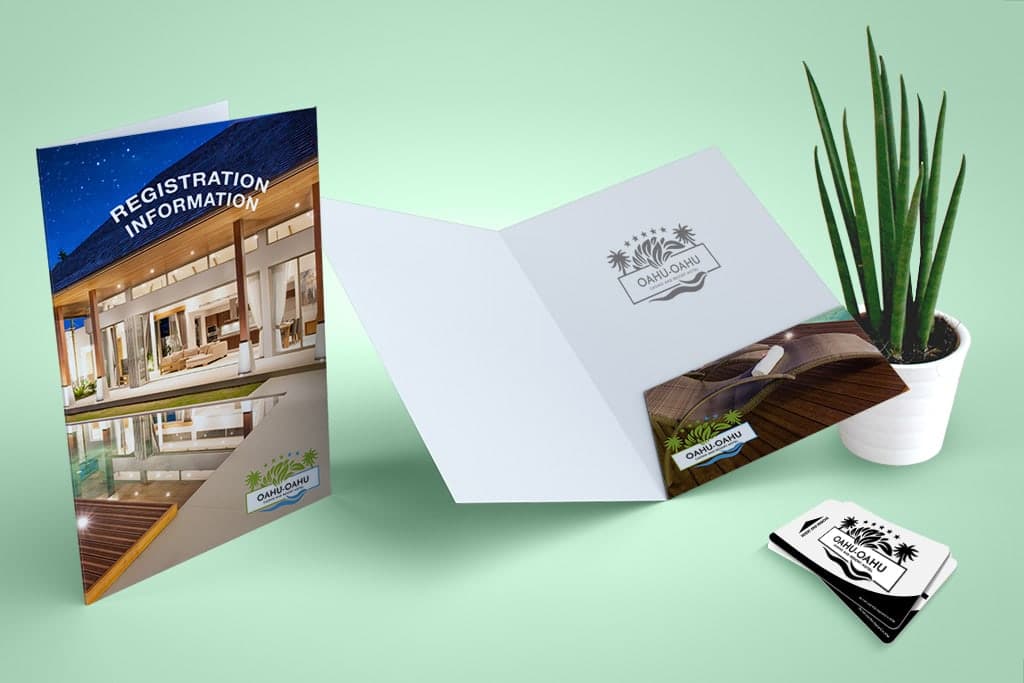 Are you looking for a way to make your contact information stand out?
Custom folders are a great way to ensure your contacts remember your contact information. They come in various colors and styles, so you can find the perfect one for your business or individual needs. Plus, with custom pocket folders, you can transport essential documents without the risk of damage.
How can you create a folder design that helps your business stand out from the rest? Let us show you how with this complete presentation folder design guide.
Keep reading to learn how to print winning custom presentation folders today.
What to Consider When Printing Custom Presentation Folders
A well-designed custom presentation folder can be a powerful tool for conveying your company's image and professionalism. Before going ahead with any personalization, it's important to carefully consider the custom folder size, shape, material, and other design elements best suited to your brand values and aesthetic.
Make sure to ask your printer about turnaround times and additional costs associated with production or shipping, and choose packaging materials strong enough to protect them during transportation. Finishing touches like foiling or embossing add an element of sophistication, while pocket tabs and window cutouts provide holders for multiple documents if needed.
Know Your Audience
Who is your target audience? Keep their needs in mind when designing and printing your custom pocket folder. Think about what you want to communicate with your message and how it should be presented in the folders.
Think about it: if your target audiences can discover the answers to their questions or find out what they need with one glance at your custom pocket folder, it will tell them a lot about you and your commitment to providing quality services. By considering the interests of those who will receive them, you can deliver a much more meaningful experience that will leave them wanting to know more about you and your company.
Fun Presentation Folder Design Elements
Looking to spruce up a standard folder? Why not add a few simple design elements like stripes around the top and bottom and make an ordinary folder extra-ordinary? Introducing aspects of your brand and logo into the folder itself can reinforce your brand message as well as create eye-catching colorful designs.
Do your design justice and liven it up with some stylish shapes – not only will you end up with something witty and eye-catching, but ultimately timeless too. You could also opt to try out a fun pattern on the inside of your pocket folders, like chevron, polka dots, or stripes.
Choose something that complements the overall design and keeps things interesting. If you are feeling particularly daring, why not emboss or foil your logo onto the outside? It's all possible with custom pocket folders!
Using Photos the Right Way
Photos can help make an even bigger impact with a full-color printed standard folder – but you don't want to go overboard. A few pictures here and there will get the job done.
Try showing off completed projects or including a professional portrait of you or your team. Talk about a competitive edge!
Hiring a photographer to take shots is also a great way to ensure your photos look their absolute best. After all, it never hurts to show you mean serious business! Whatever you do, make sure to keep it simple in order for photos to pop.
Professional Headshot
Of course, any custom folder wouldn't be complete without individual flair, and that's where the professional headshot comes in! Here's an excellent guide for getting a winning professional photo for your folder and online profiles.
Be sure to include your business portrait alongside contact details – keep it small to not overwhelm the design. And for a 1- or 2-color printed folder, why not go the extra mile and print the perfect headshot in black and white? After all, they don't call it 'custom' for anything!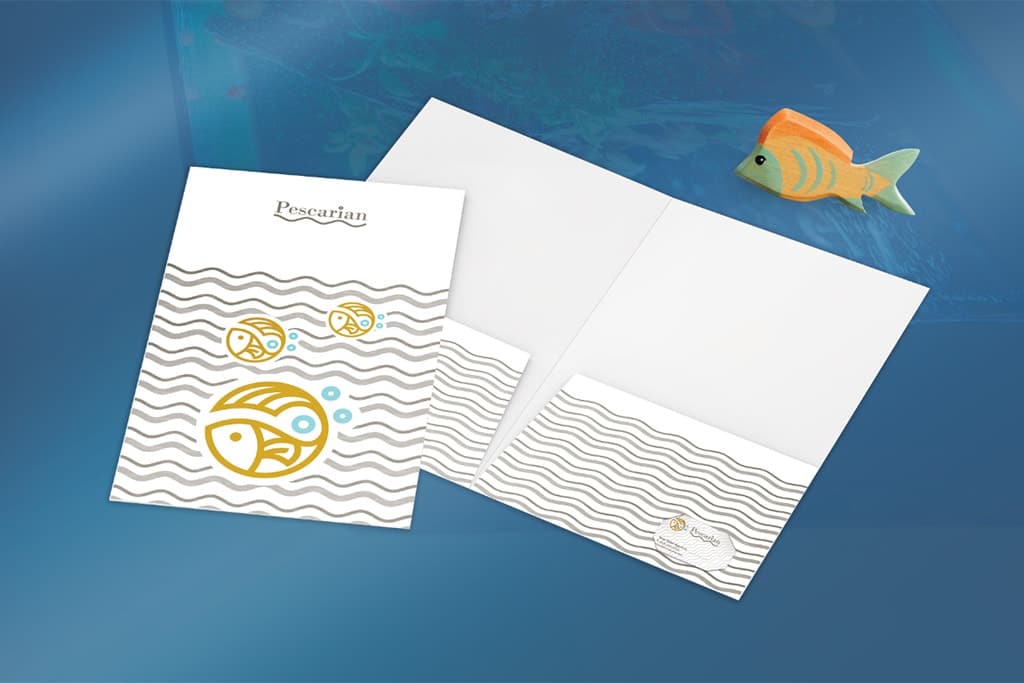 Use Both Sides of the Folder
With full-color printed standard folders, you can take advantage of the front and back design space to ensure your brand stands out. Make a bold statement by carrying a big graphic or picture from one side of the folder to the other for complete visual symmetry.
We suggest laying it out on one of our folder templates to guarantee that your artwork is printed exactly how you want it. Double-check that the pieces fit together before you hit print! Another idea is to have the same branding element on both sides so it looks clean and professional.
Logo Advice for Folder Designs
Sometimes simple is better! Use your logo and nothing else for an eye-catching presentation folder that will get people talking. If you have a colorful logo, print it on white paper stock, so it stays nice and vibrant.
Do you have a crazy looking logo? Great! White space is key if you have a busy logo; this way, it's still the focal point and can shine.
Are you in the middle of a logo revamp? Check out the most iconic designs through the years as inspiration.
For a professional look, choose a 3-color printed standard folder. Remind consumers who you are with a logo-driven presentation folder that is sure to leave an unforgettable impression!
Unconventional Placement
If you're designing a custom presentation folder, be creative regarding logo placement! It's essential to find the right balance of visibility and off-the-wall fun—no one wants their brand to blend in thoroughly.
And don't forget your folder edge either—make sure to leave enough space between any printed artwork and the format of your foil-stamped folders so that nothing important gets cut off. Let your logo make a statement, and let it shine.
Consistent Branding Works Best
Always keep your branding consistent with every pocket folder marketing material you produce. Companies like Amazon understand this golden rule.
Bringing in over $22 billion a year, Amazon remains consistent with all of its branding colors and logos. You should do the same.
Try to use the same fonts, colors, and logos on all your items so that customers can easily recognize your company, even at a glance. Consistent branding will ensure that customers remember who you are and what you do – and it'll also help build trust between your brand and potential customers.
Presentation Folder Design and Printing Mistakes to Avoid
Custom presentation folders are a must to give your bid a leg up over the competition. Ditch generic stock imagery and choose a full-color printed standard folder for maximum impact.
Who knows, even the most creative quip or play with words could be exactly what's needed to land those big contracts! Save budget where you can by taking pictures yourself or engaging customer service people to design your bespoke art that truly reflects what your business is all about.
Spacing Your Folder Design
When it comes to custom presentation folders, don't forget that during the cutting and folding process, a shift of up to 1/16in can occur. To avoid any potential design mishaps, we recommend avoiding solid lines along the edges of folds – instead, bleed the colored line or graphics through them so they will still look intentional regardless of any potential shifts.
Consider the Bleed
Bleed should be 1/8″ beyond the edge of the page, and image resolution must be a minimum of 300 pixels per inch (PPI) at the final size for offset printing. Images saved from the web are usually only 72ppi, so ensure your images are set up correctly before being sent off for production.
Color Palette Tips
A custom-printed presentation folder is an effective way to communicate your company's professionalism and image. Carefully selecting the color palette for your folder can make a big difference in creating an impactful visual impression. It's best to consider one or two colors to help your logo stand out.
If you need guidance on making the right color choices, try seeing what the competition is doing. What's working for their colors, and how could yours be even better?
Also, place your logo in the business card slot so that it remains visible when a card is removed from the folder. This small detail can have a long-lasting impact on how people view your company and help ensure you are portrayed in a smart and professional light.
After all, you've worked hard for your brand – now it's time to ensure everyone knows it! Choosing colors that evoke the right sentiment is key; blues and grays give off a calming feeling, while yellows and oranges can be inspiring.
Selecting the perfect combination of colors will help ensure customers feel positive about you and your company! And remember: they don't call it 'custom' for anything!
So make sure you take full advantage of the printing options available and create something special that will really get people talking. Let your brand stand out from the crowd with an unforgettable custom folder design.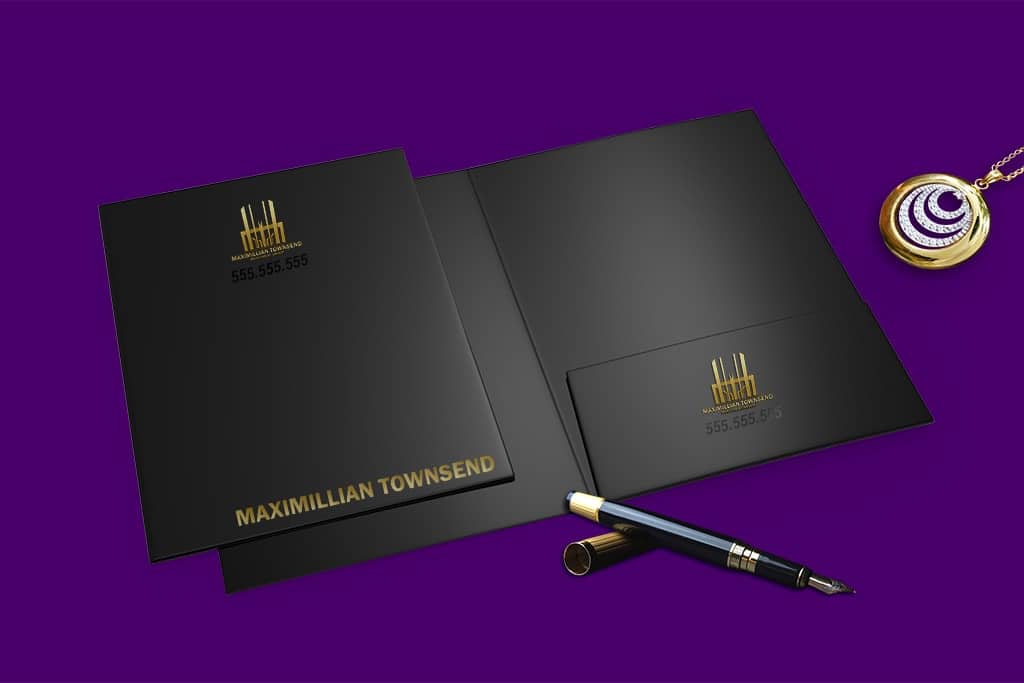 Rich Black Rule
Also, there's the rich black rule. If you plan on having large black areas, use a rich black to prevent the area from looking washed out.
The formula for a rich black is C: 60 M: 40 Y: 40 K: 100. You can always ask a printing expert for advice on this rule, and anything else you're curious about.
Always Include Contact Information
Let everyone know who you are and what you do! Add your contact information to your custom folders if your business card gets lost. Plus, spice up the back cover of your folder with a professional headshot- perfect for realtors!
Whether it's a pocket, below the logo, or just a line at the bottom of the folder, make sure you include both phone and web options for clients to contact you with. Have fun with it, too!
You can get creative on how you present yourself- have a bold and witty tone, or use an inspiring quote depending on the feeling you want to evoke. Make sure your brand stands out however you choose to style it. With a custom presentation folder from PGprint, you can make sure everyone knows who you are!
Always include a list of the services you offer. This is a great chance to connect with potential customers and truly let them know what you can do.
Tell Your Company's Story
Do you have an inspiring story about how your business got started? Share it! Your company's history can be presented in a few sentences or bullet points, adding a special touch that clients may appreciate.
Share customer success stories or rave reviews from previous projects to show potential customers that you consistently deliver results! The power of positive word-of-mouth can be incredibly powerful for marketing your services.
Let users know what your product or service can do for them. Presenting your company's benefits to potential customers is essential in driving sales and showing why they should choose you over the competition.
Completed projects are always a great bragging point! Showcase customer reviews by displaying them on your presentation folder design or include statistics from industry research sources. Not only does this show that your services work, but it also instills trust in potential customers.
Present in Graphs and Charts for Visual Appeal
Presenting facts and figures about your business visually effectively grabs attention and makes an impression. It's easy to include graphs and charts that show success rates or other data related to your business.
When you're designing a custom presentation folder, don't forget to be creative and have fun! With the right combination of colors, words, and visuals, you can make sure people remember who you are when they look at your design. Take full advantage of the printing options available and make something truly special that will get people talking about your company!
Customize Your Printed Folders with Style and Care
Creating custom presentation folders isn't just about making something that looks good – it's also about conveying what your business stands for in an effortless way. With these tips in mind, you'll be able to create an eye-catching presentation folder that will give your clients a lasting impression of your business.
The perfect presentation folder is only a few clicks away- so go ahead and get creative with your design today! Whether you need something professional or playful, there's an option for everyone. PGprint is happy to provide you with a customized quote now!