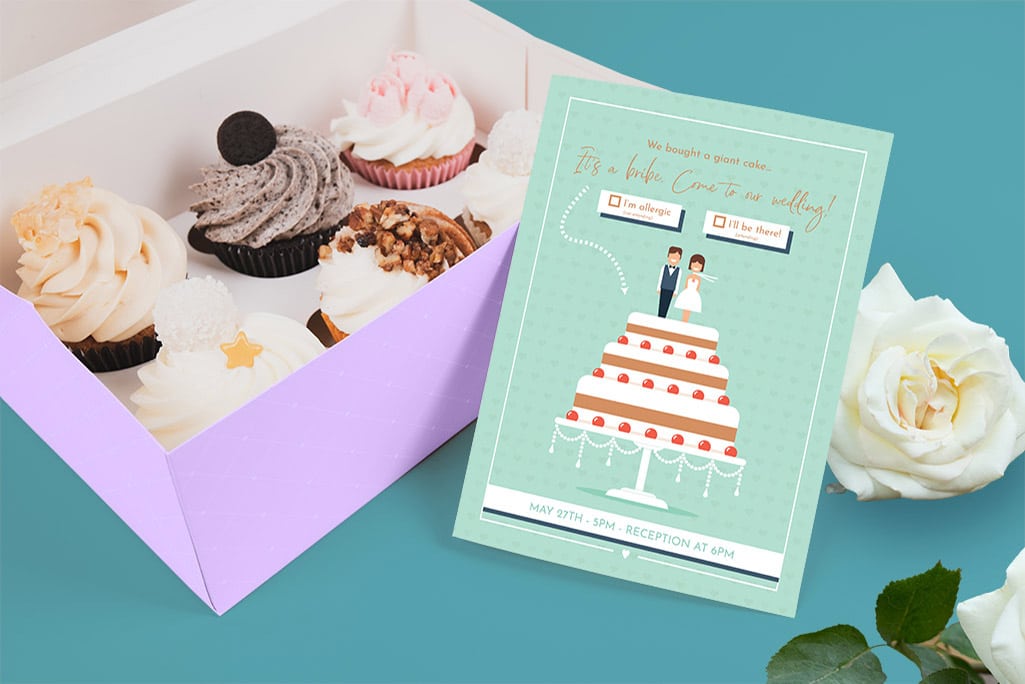 Weddings are a magical blend of love, commitment, and, often, a sprinkle of humor. Funny wedding invitations serve as your opening act, setting a light-hearted tone for your big day. This comprehensive guide will walk you through the nuances of creating invitations that are visually appealing and humorously engaging. So, let's get started on crafting those laugh-inducing invites!
The Art of Crafting Funny Wedding Invitations
Creating funny wedding invitations is an art form that marries design and language in a harmonious union. The design acts as the visual setup, teasing your guests about the fun-filled celebration that awaits them. It's like the drumroll before the big reveal. The wording is the punchline that delivers the humor straight to the heart. From funny wedding invitations templates to snappy one-liners, the creative possibilities are endless. So whether you're a fan of puns or prefer dry wit, there's room for every type of humor.
Funny Wedding Invitations Templates: Your Humor Canvas
When you're pressed for time but still want to inject some humor into your wedding, templates are your go-to option. You can use PGprint's templates page to craft your own wedding invitation. Not feeling creative? Reach out and have your invitation professionally designed. Your wedding is coordinated and run by professionals seasoned in the business, why not do the same with your wedding printing? These templates act like a blank canvas, eagerly waiting for your comedic genius to bring them to life. You can add your text, switch up the colors, and even add small design elements that resonate with your sense of humor.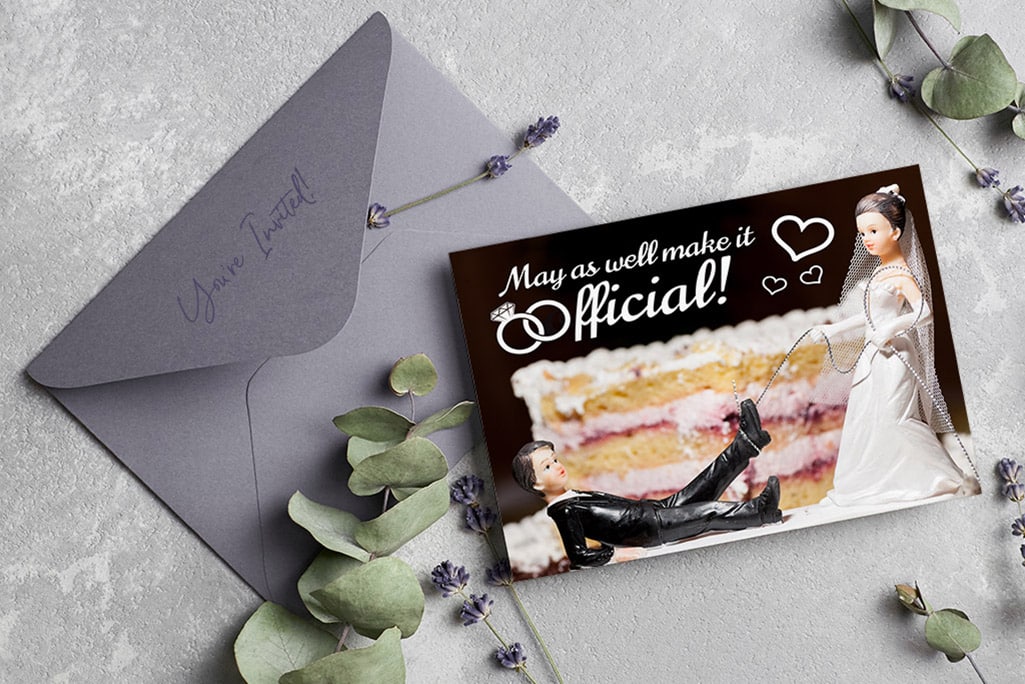 Funny Wedding Invitations Wording: The Soul of the Invite
The wording is undoubtedly the soul of your invitation. It's where your personality shines the brightest. For those embarking on a second marriage, consider using funny wedding invitations wording like, "Encore! Because Every Great Love Story Deserves a Standing Ovation." This not only captures the essence of a love that's ready for another chapter but also adds a theatrical flair that's hard to ignore.
Funny Wedding Invitations for Friends: The Inside Scoop
Your friends are the spice of life, and they can certainly add some zest to your wedding invitations. When crafting funny wedding invitations for friends, think about including inside jokes, shared experiences, or even memes that only your circle would understand. For instance, "We're tying the knot! Be there or forever hold your memes" could be a fun way to engage your friends.
Funny Wedding E-Invites: The Digital Chuckle
In today's digital age, e-invites are not just convenient; they're also incredibly versatile. Funny wedding e-invites offer a modern twist, allowing for interactive elements like clickable jokes, short video clips, or even augmented reality experiences. You can turn these digital videos into tangible goods with a video greeting box.
Funny Wedding Invite Message for Friends: The Personal Touch
Your closest friends deserve an invitation that's as special as your friendship. A funny wedding invite message for friends can be the cherry on top of an already delightful invite. How about something like, "Join us for a night of romance, dance, and a free open bar—because we know what really matters to you."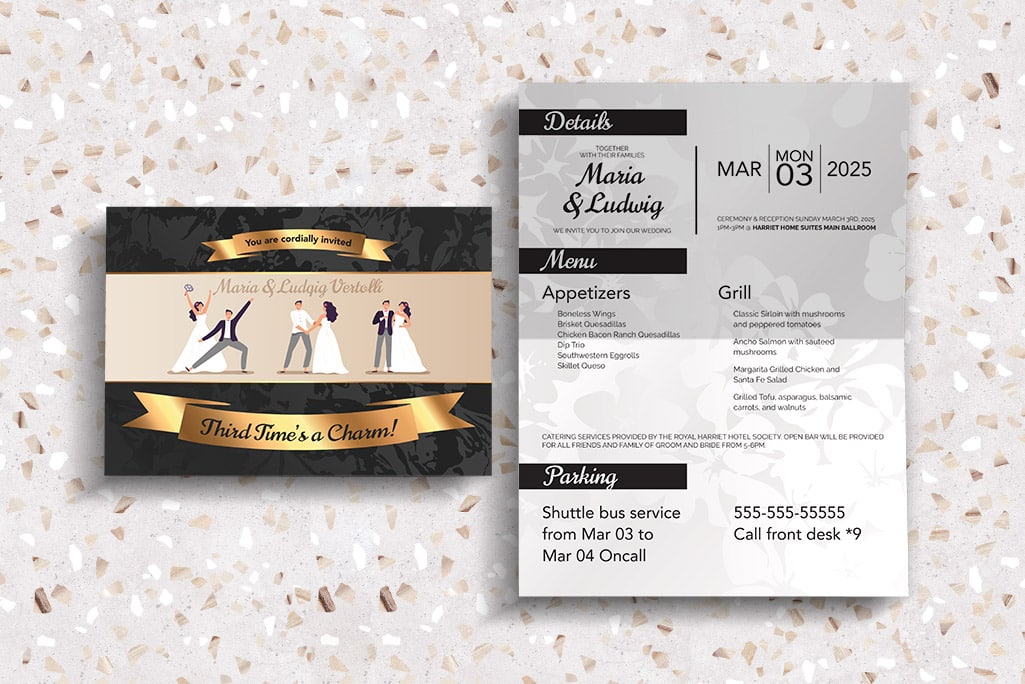 The Logistics of Laughter: RSVP and More
The RSVP card is another opportunity to keep the humor alive. Instead of the usual "Will attend" or "Will not attend," get creative. Options like "Wouldn't miss it for the world" or "Will be there in spirit (and via live stream)" can add a whimsical touch to the formalities.
The Final Laugh: Thank You Cards
Your wedding humor shouldn't stop at the invitations. Extend the comedy to your thank-you cards. A simple message like, "Thanks for beefing up our wedding photos with your beautiful face!" or "Your gift was almost as awesome as you are!" can leave a lasting impression.
Conclusion
Funny wedding invitations are far more than mere pieces of paper or digital notifications. They're the opening act to your wedding story, setting the stage for an event filled with love, laughter, and a host of unforgettable moments. From the templates you choose to the wording you craft, each element is an opportunity to showcase your unique sense of humor and personality.
FAQs
Q: What's the secret to great, funny wedding invitation wording?
A: Personalization and relatability are key. Use language that resonates with your guests and reflects your personality.
Q: Is humor appropriate for a second marriage invitation?
A: Yes, funny wedding invitations for a second marriage can make the event feel fresh and exciting.
Q: What are the benefits of funny wedding e-invites?
A: Funny wedding e-invites are eco-friendly, easy to distribute, and allow for interactive elements like clickable jokes or videos.
Q: How can I make a funny wedding invite message for friends?
A: Include inside jokes, shared experiences, or humorous promises like a free open bar to make your message memorable.