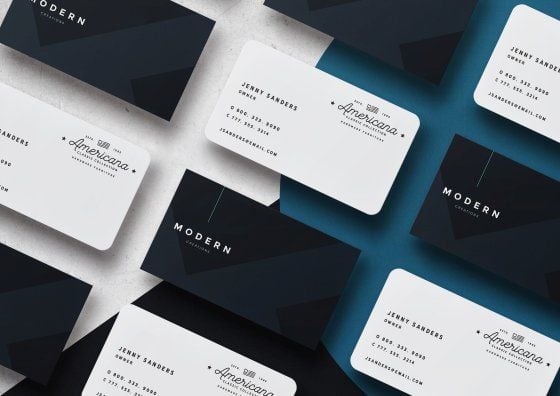 Introduction
First impressions stick. One way to make a lasting mark is through cool business cards. Forget the usual dull cards. We're talking about cards that make people look twice and remember you.
Why Cool Business Cards Matter
You might think, "Who needs business cards these days?" But don't be too quick to dismiss them. A cool business card is like a pocket-sized billboard. It tells people who you are and what you're about. It can show off your unique style and make you memorable.
The Power of Touch
When you hand someone a business card, it's a physical act. The person feels the card's texture and weight and notices details. This adds a personal touch that digital methods can't match.
Cool Business Cards Ideas
Add a QR Code
Cool business cards with QR codes are not only modern but also practical. A quick scan with a phone takes someone straight to your website, portfolio, or LinkedIn profile. It's a neat way to share more about yourself without making the card look busy. Get rid of the old-school techniques and strategies, upgrade everything, and enjoy the results.
Use Bold Colors
Colors can say a lot. Bright, bold colors can make your card stand out from the rest. But choose colors that grab the attention instantly. The colors should fit your brand and the message you want to send.
Best Business Card Designs 2023
The year 2023 has brought fresh and eye-catching designs that will make you WOW. Best business card designs 2023 show that less can be more. Simple lines, textured paper, and even 3D elements are more than enough. These designs prove that business cards can be both modern and fun.
The Trend of Minimalism
Many people are going for a clean, minimal look. It's all about letting the essentials shine. No clutter, just your name, what you do, and how to reach you. Let's be concise and provide people with the relevant stuff to achieve our desired results.
Business Card Design Ideas Free
Don't have a big budget? No worries. There are plenty of business card design ideas free of charge. Websites offer templates that you can tweak to make them your own. You can add your personal details like name, logo, and contact info, and you're good to go.
DIY: Do It Yourself
You can design your card from scratch if you're good with tools like Photoshop or Canva. It gives you complete control over how your card will look. Try different designs and colors to get a basic idea and craft it into an art piece.
Where to Buy
Ready to get your cards printed? There are many places that offer cool business cards to buy. Websites like PGprint offer a wide range of options. You can design your own card or pick from their ready-made designs. You can also get cool business cards of your choice from the collection. Explore different designs and pick them according to your needs. 
FAQ's
How to Make Simple but Cool Business Cards?
You don't need to go overboard to make a cool card. Stick to a clean design. Use two or three colors and a font that's easy to read. Add your logo and the must-have info: name, job title, and contact details.
What Are Cool Things to Put on the Back of Business Cards?
The back of the card is extra space you can use. Consider adding a short quote that reflects your work ethic. Or list your services. Some people even add a small map showing their office location.
Who Makes Business Cards That Are Cool?
Online services like Vistaprint and Moo offer a variety of cool designs. But local print shops can also make custom cards that fit your style.
Who Makes Those Really Cool Business Cards?
Artists and graphic designers often make unique, one-of-a-kind cards. They might use special techniques like laser-cutting or embossing to make the card pop.
How to Make Cool Business Cards Using Photoshop?
Numerous designing tools available on the internet will help you craft a striking business card. Simply use a template and add layers for each element: text, images, and maybe even a QR code. Use the color picker tool to make sure the colors match your brand.
Conclusion
Cool business cards are more than just pieces of paper with your contact info. They're a way to show off your unique style and make a lasting impression. Whether you buy them or make them yourself, a cool card can help you stand out in a crowd. So, why wait? Get your own cool business card today!