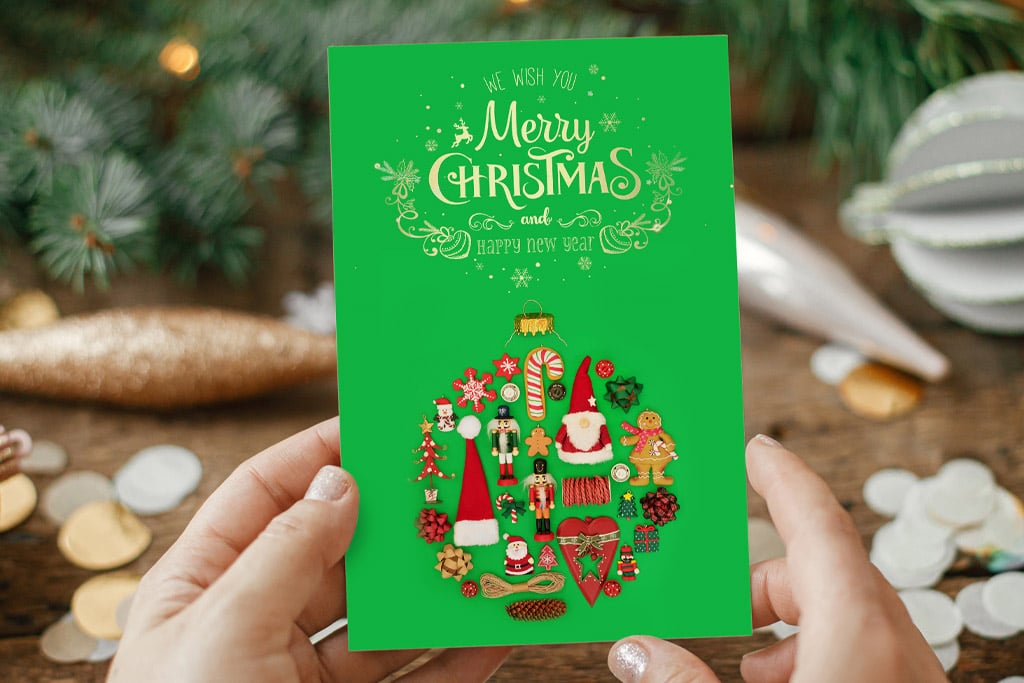 The holiday season is a canvas painted with the colors of joy, unity, and the spirit of giving. Holiday greeting cards are the brushstrokes that add depth and emotion to this festive tableau. From the classic "Season's Greetings" to personalized messages that tug at the heartstrings, these tangible tokens of affection are the unsung heroes that make the holiday season truly memorable. In this comprehensive guide, we'll dive into the fascinating realm of holiday greeting cards, showcasing how they can make your festive season even more special. For top-notch holiday card printing, PGprint is your go-to destination.
The Essence of Holiday Greeting Cards
Holiday greeting cards are more than mere pieces of paper; they are vessels of emotion and goodwill. Whether you're sending wishes to loved ones, adding a personal touch to corporate gifts, or sharing joy on social media, a well-crafted card amplifies the holiday spirit. Platforms like PGprint offer a plethora of designs, from elegant to whimsical, ensuring there's a card that fits your unique style and message.
The Quintessential "Season's Greetings" Card
The "Season's Greetings" card is a staple — a universal symbol of holiday cheer! These cards come in a myriad of designs, from traditional winter landscapes to contemporary abstract art. They serve multiple purposes – as inserts in holiday gifts, standalone mailers, or even as e-cards. Want to make your corporate gifts stand out? A tasteful "Season's Greetings" card from PGPrint can add that extra touch of class!
Holiday Card Messages: The Heart of the Card
Sometimes, words convey what generic designs cannot. Personalized cards offer a direct line to the hearts of recipients. Whether it's a heartfelt note, poem, or even a family photo, these cards make your holiday wishes unforgettable. PGprint offers customization options that let your creativity soar.
The Psychology Behind Holiday Cards
Believe it or not, sending and receiving holiday cards has psychological benefits. It's a gesture that fosters a sense of community and belonging. For the sender, it's an opportunity to express gratitude and love, which in turn boosts mood and well-being! For the recipient, a holiday card serves as a tangible reminder that someone is thinking of them, which can be especially uplifting if they're feeling lonely during the holiday season.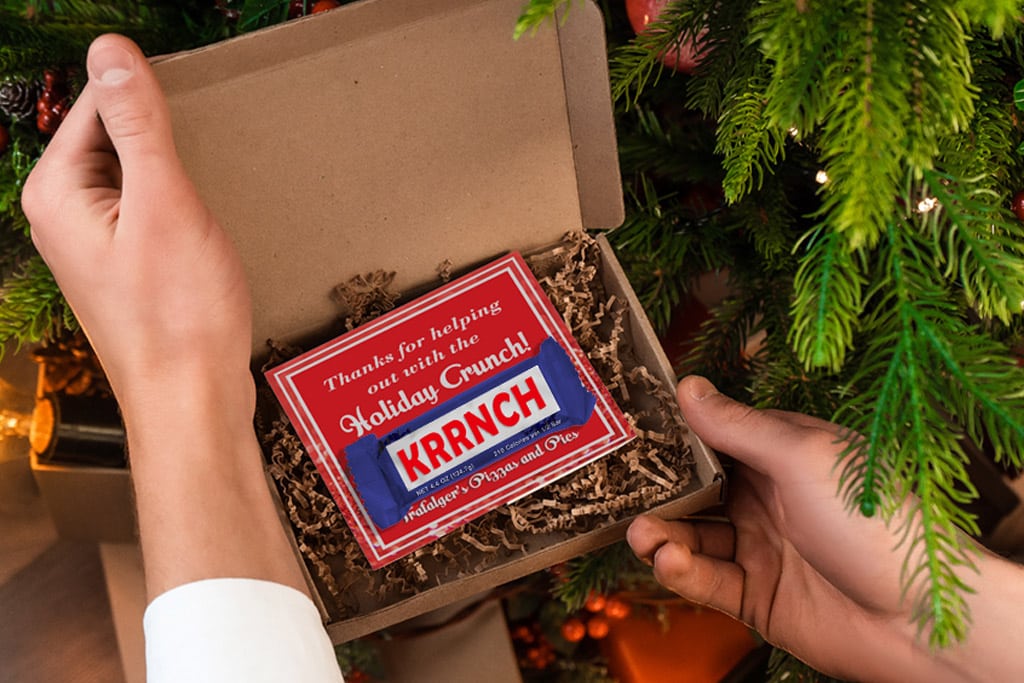 The Versatility of Holiday Cards
Holiday cards are not confined to personal use, they have a place in the business world, too! Companies can use them to strengthen customer relationships, include them in holiday promotions, or even design them as collectibles and for retail outlets. For individuals, the possibilities are endless — from DIY holiday decor to personalized gift tags.
The Art of Handwritten Notes
In an era where digital communication reigns supreme, the charm of a handwritten note on a holiday card is unparalleled. It's a personal touch that shows you took the time to sit down and pen your thoughts. Handwritten notes can be as simple as a "Happy Holidays" greeting or as elaborate as a full letter detailing the year's events! The point is it's personal, and that's what makes it special. PGprint offers cards with ample space for your handwritten messages, ensuring they have the spotlight they deserve.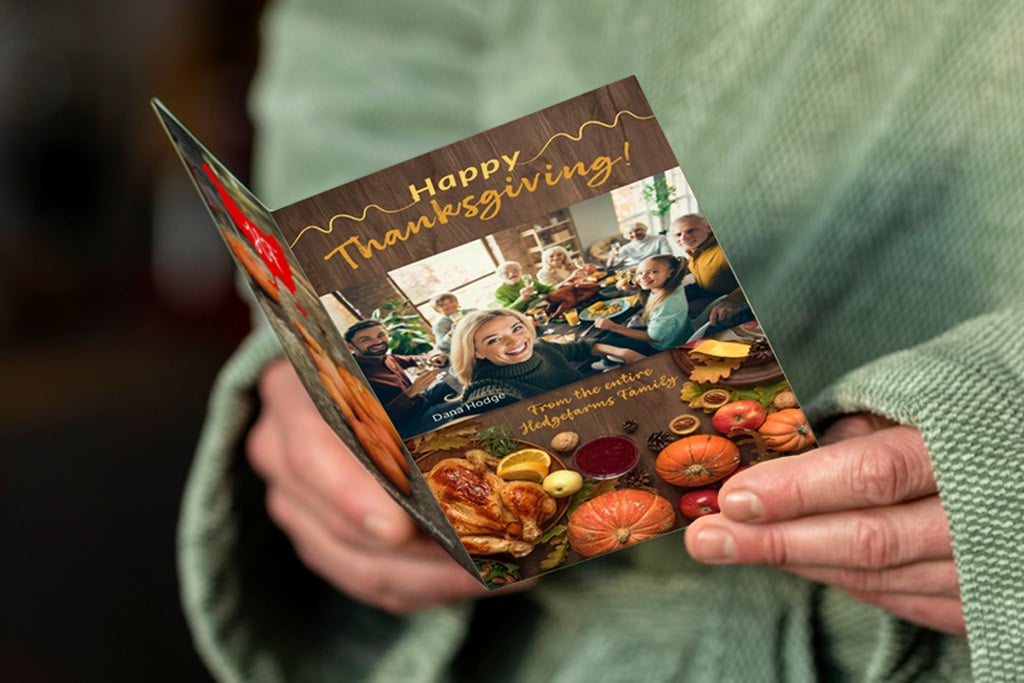 The Trend of Personal Photos
One of the rising trends in holiday cards is the inclusion of personal photos. Families often take special holiday-themed photos to include in their cards. It's a fantastic way to share a slice of your life with loved ones you may not get to see often. PGprint offers a range of photo-friendly designs, allowing you to upload your pictures and integrate them seamlessly into your chosen card layout.
The Corporate Angle
For businesses, holiday cards are more than just a seasonal nicety — they're a strategic tool. Sending a holiday card to your clients or customers can serve as a subtle reminder of your brand, keeping you in their minds as they enter the new year. It's also an opportunity to express gratitude for their business, which can go a long way in building and maintaining solid relationships. PGprint offers corporate packages that include your company logo, ensuring your brand is front and center.
Folded Holiday Cards
When it comes to adding a touch of elegance and space for personalization, folded holiday cards are the way to go. These cards open up, making more room for your messages, photos, or even a yearly family update letter! The front can feature a festive design or a family photo, while the inside can hold your heartfelt holiday wishes. It's like a mini booklet of joy that the recipient can unfold to discover multiple layers of holiday cheer. And let's not forget the back of the card—perfect for a cute holiday stamp or even a brief recap of the year's highlights. PGprint offers a variety of folded card designs, from traditional to modern, all customizable to fit your holiday vision.
Flat Holiday Cards
If you're looking for a sleek, straightforward way to send your season's greetings, flat holiday cards are the way to go! These cards deliver all the essential elements—design, message, and even a photo—on a single, flat surface. They're the go-to choice for busy folks who want to keep things simple yet stylish. Flat cards are also ideal for business holiday greetings where a concise message is more appropriate. They're easy to stack, mail, and display on a fridge or bulletin board. PGprint's selection of flat holiday cards come in various shapes and sizes, each offering a dash of festive flair without the need for extra frills.
DIY Holiday Card Crafts
If you're the crafty type, holiday cards can serve a dual purpose. Once the season is over, instead of tossing them in the recycling bin, why not turn them into something new? From holiday ornaments to bookmarks, the possibilities are endless. It's also a fun activity to do with kids, teaching them the value of recycling and creativity.
FAQs
Where can I get quality holiday cards?
PGprint offers a wide range of high-quality holiday cards, from traditional to modern designs.
Can I customize my holiday cards?
Absolutely! PGprint allows you to personalize your cards in various ways, including text, images, and even card shapes.
How can businesses use holiday cards effectively?
Holiday cards can serve as a personal touch in corporate gifts, thank-you notes to clients, or as a seasonal email footer.
What are some creative ways to use holiday cards?
From DIY ornaments to holiday scrapbooking, the creative uses for holiday cards are limited only by your imagination.
Is it worth investing in premium holiday cards?
Quality often speaks volumes. Premium cards not only look better, but they feel better when you hold them, making your message even more memorable.
Can I include gift cards with my holiday cards?
Of course! Many designs offer a slot or pocket for gift cards, making your holiday greeting a gift in itself.
Conclusion
Holiday greeting cards are a cherished tradition that adds a personal touch to the festive season. From the classic "Season's Greetings" to personalized messages, these cards offer a tangible way to express your sentiments. So why wait? Explore the diverse range of options at PGprint and make this holiday season one to remember.