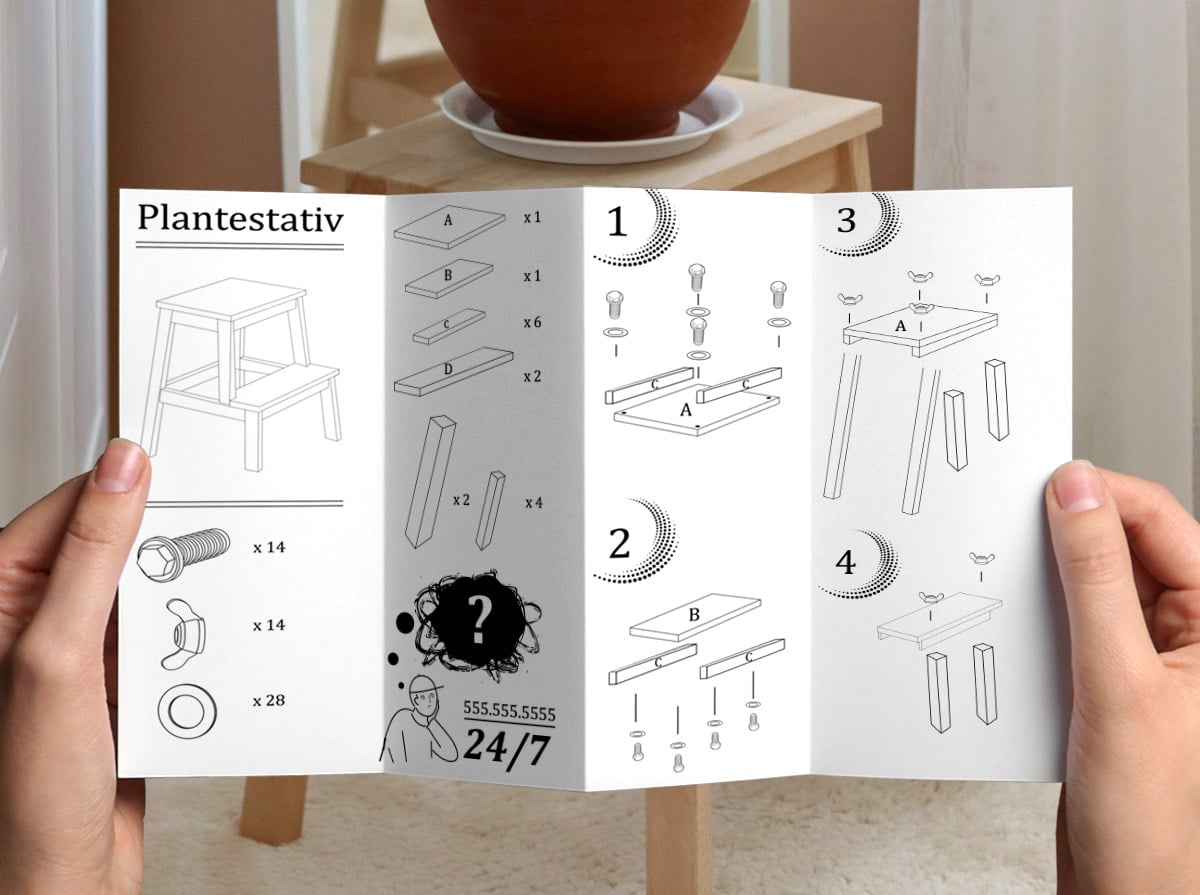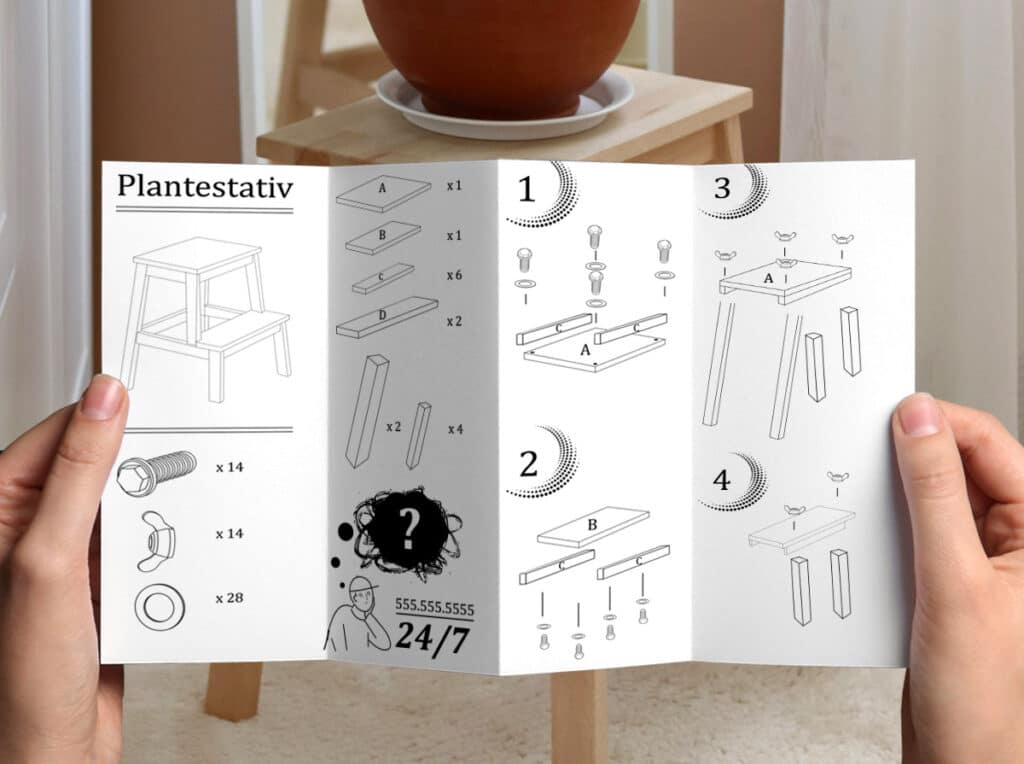 Does your company sell a product that people will have to put together after buying it? If so, you may want to set them up with step-by-step instructions on how to do it to help smooth the process!
You should try to find the most effective way to deliver these instructions to them. Roll-fold brochure printing is one of the best ways to provide people with clear-cut instructions. The information is neat and tidy within panels, unfolding a section at a time. This makes it absolutely PERFECT for detailed instructions and diagrams. You can also still create a spread that comes together when the customer completely unfolds your brochure.
So, what are roll-fold brochures? Who can benefit from them? And how can you create the perfect instruction manuals with them?
In this article, our goal will be to answer these questions and extend more information about roll-fold brochure printing as a whole. Keep reading to see why it would be worth investing in these brochures for your company.
What Are Roll-Fold Brochures?
Before we begin talking about how your business might be able to benefit from using roll-fold brochure printing, you need to know what roll-fold brochures are. So let's kick things off by running through what you can expect from these how-to brochures.
A roll-fold brochure is a type of brochure that contains usually more than three panels. It is folded in such a way it has to be unrolled in order for more information to be visible. This is where it gets its name. More often than not, it'll have four panels, but there are also some that have up to six panels.
What sets roll-fold brochures apart from other kinds of brochures is that you'll be able to "unroll" them and read them in a more natural order than you'd be able to otherwise. It's why so many companies utilize roll-fold brochure printing when they're creating things like instruction manuals.
Who Should Use Roll-Fold Brochures?
There are so many companies that can benefit from putting roll-fold brochures to the test. You'll want to think about whether or not your company may fall into this category when you're considering ordering roll-fold brochures.
As we alluded to earlier, any companies that sell products that'll need to be assembled by customers may want to invest in roll-fold brochures. Your company might want to do it if you sell products that require assembly like:
Furniture
Home theater setups
Car accessories
Bicycles
Toys
And any product that requires installation or has complicated rules for use
Roll-fold brochures would also be an excellent option for companies that specialize in making and selling board games, puzzles, and anything else that might call for instructions to be included. These brochures will help people get the hang of how to play things like board games with these brochures. It will also add to the novelty of the product, putting some care and thought beyond a simple card.
Additionally, your company may want to think about going with roll-fold brochures if you have special pricing structures for the services you offer. You can quickly and easily show people the differences between economy, plus, and VIP pricing packages with these brochures.
As if all that wasn't enough, any businesses that are situated in hard-to-find locations should also kick around the idea of ordering roll-fold brochures. You can help people find your business by simply including a map and instructions in your brochures.
What Are the Benefits of Roll-Fold Brochures?
Ordering roll-fold brochures for your business will come with a long list of benefits. Your company will be able to take advantage of many of them once you've had roll-fold brochure printing performed.
Check out several of the biggest benefits you'll get access to when you order roll-fold brochures:
They'll allow you to make a large amount of information easier for people to understand
They'll help people follow along with a series of steps you want them to take
They'll give you an opportunity to include both words and photos on them
They'll feature color on either one or both sides depending on your needs
They'll give your company a more professional appearance overall
Once you place your first order for roll-fold brochures, you'll wonder why you didn't order them so much sooner. They'll convey a bunch of information to your customers without confusing them at all.
How Can You Design Roll-Fold Brochures?
It'll be so simple for your customers to digest all the information found in your roll-fold brochures when you're done designing and printing them. But before you get to that point, you'll need to sit down and put design plans in place for your brochures.
If you don't have much of a design background, this will be easier said than done. It won't necessarily be easy for you to design roll-fold brochures that look good and include all the info you want.
But not to worry. PGprint can lend a hand with roll-fold brochure printing. They'll be able to offer the design services you need to bring your roll-fold brochure ideas to life in no time.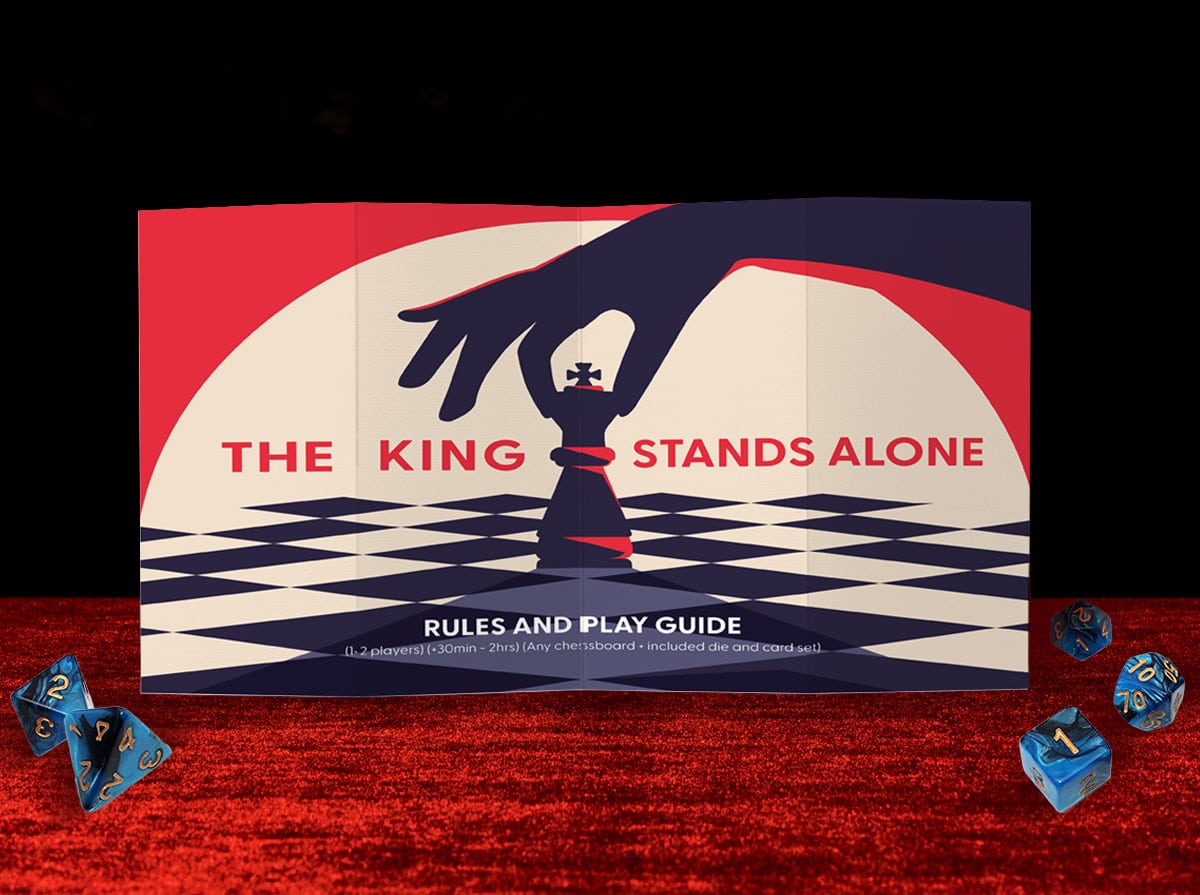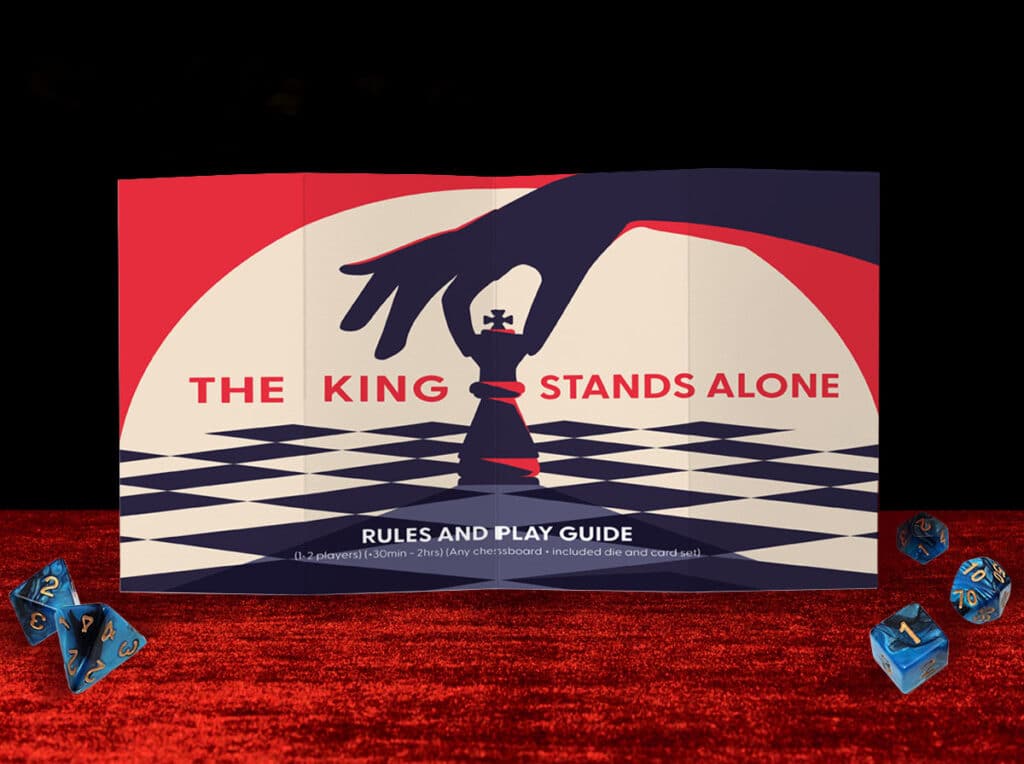 Who Can Help You Design Roll-Fold Brochures?
Have an idea but need help with the presentation? Then you shouldn't hesitate to call on a company like PGprint for assistance.
We've been providing companies with printing services for a long time now. We can discuss the design ideas you have for roll-fold brochures and set out to make them a reality.
There are also other aspects of our company that'll appeal to you. Take a look at some reasons why PGprint is the company you can count on for printing services:
We can help you customize brochures from start to finish
We never do gang run printing
We use top-of-the-line equipment and supplies
We provide the best customer service in the business
PGprint won't be the only company that can help you with roll-fold brochure printing. But you'll love knowing you can rely on us to provide you with the printing services that'll leave you with the most high-quality brochures imaginable.
What Are Some Tips for Designing Roll-Fold Brochures?
PGprint will be by your side every step of the way when you're working on designing roll-fold brochures. But that doesn't mean you won't get the opportunity to put your own stamp on your brochures.
We encourage all our clients to be as active as they'd like to be throughout the brochure design process. These tips should help you create roll-fold brochures that you'll be proud of in the end:
Make sure you know what you need to include in a roll-fold brochure from the beginning
Avoid trying to cram too much information or too many photos into a roll-fold brochure
List the steps that you'll include in a roll-fold brochure in the most logical way possible
Utilize photos and other design elements to keep people reading through your entire roll-fold brochure
We would also suggest you use the final panel of a roll-fold brochure to promote other products and services your business sells. These products and services don't need to have anything to do with the products and services listed throughout the rest of the brochure.
It's an easy way to promote some other aspect of your business without making it feel too forced. You may be able to increase sales by taking this one simple step when creating roll-fold brochures.
Which Mistakes Should You Avoid When Designing Roll-Fold Brochures?
As long as you have a company like PGprint in your corner when you're designing roll-fold brochures, you shouldn't have to worry about making too many mistakes. We'll walk you down the right path to guarantee you get the brochures your company needs.
There are, however, some mistakes that should be on your radar when you're designing roll-fold brochures. Here they are:
Attempting to design your own without clear understanding or plan in place
Failing to have a clear plan for what you'd like to include in a roll-fold brochure
Attempting to shoehorn too much information into a roll-fold brochure
Going with a company that's unable to create high-quality roll-fold brochures that are easy to read
Not considering your page options when printing a roll-fold brochure
Again, you'll be in great hands when you trust PGprint for your business printing needs. But that doesn't mean you should ignore the potential problems you may face when designing roll-fold brochures.
How Much Does Roll-Fold Brochure Printing Cost?
Arguably the biggest benefit of buying roll-fold brochures will be the price tags you'll find on them. You'll be very happy to hear that you won't have to break the bank on these brochures when purchasing them.
Even though roll-fold brochures will look so much nicer than many other kinds of brochures, they won't cost a small fortune. They'll also be so much cheaper than more advanced catalogs or handbooks would be.
The exact price you'll pay for roll-fold brochures will be based on many factors. These factors will include:
The number of panels in your roll-fold brochures
The specific design elements chosen for your roll-fold brochures
The quantity of roll-fold brochures you order
The company you order roll-fold brochures from
The urgency of your roll-fold brochure order
You can get a better idea of how much roll-fold brochure printing will cost you by touching base with PGprint. They can ask you more about your needs and come up with a quote for you after hearing about them. The online quote tool can also give customers an idea as to how much their order will cost.
How Many Roll-Fold Brochures Should You Order?
When ordering roll-fold brochures from PGprint, you'll need to order at least 50 at a time. But that doesn't mean you shouldn't order more than that.
Ideally, you'll want to have enough roll-fold brochures to hand out to everyone who is either ordering a product or service from your company or even just thinking about doing it. It'll ensure you always have more than enough of these brochures on hand.
The size of your order will need to be based on how many people you believe will be interested in your product. You should shoot to order that number of roll-fold brochures and then order more in the future if you need them.
Just keep in mind that you may be able to save your company money on roll-fold brochures by buying them in larger quantities. That might be reason enough for you to place a big order for roll-fold brochures right from the start. Excess brochures can always be stored away for future use, provided they are not exposed to direct sunlight or moisture. Large orders of roll-fold brochures are highly recommended for evergreen products or products that have been developed and will not likely change in the future, allowing you to store your excess safely.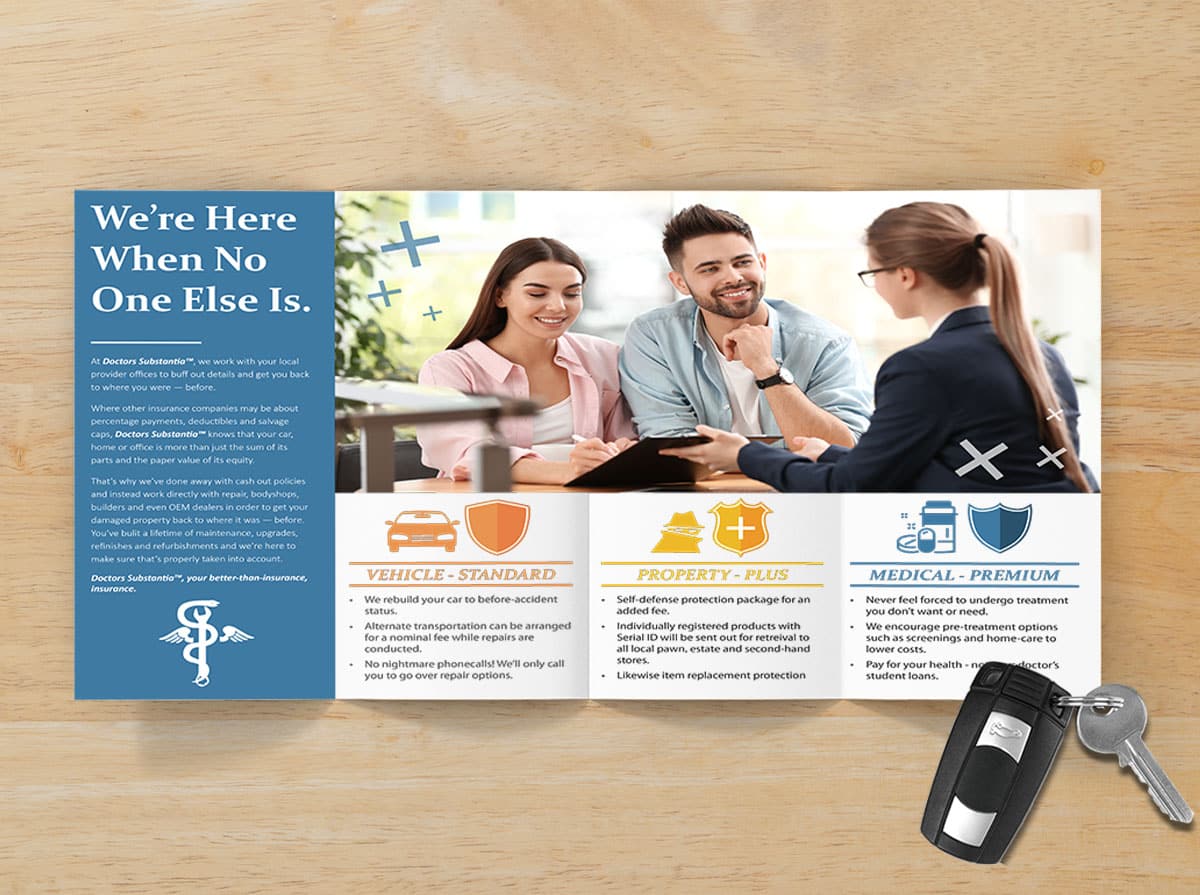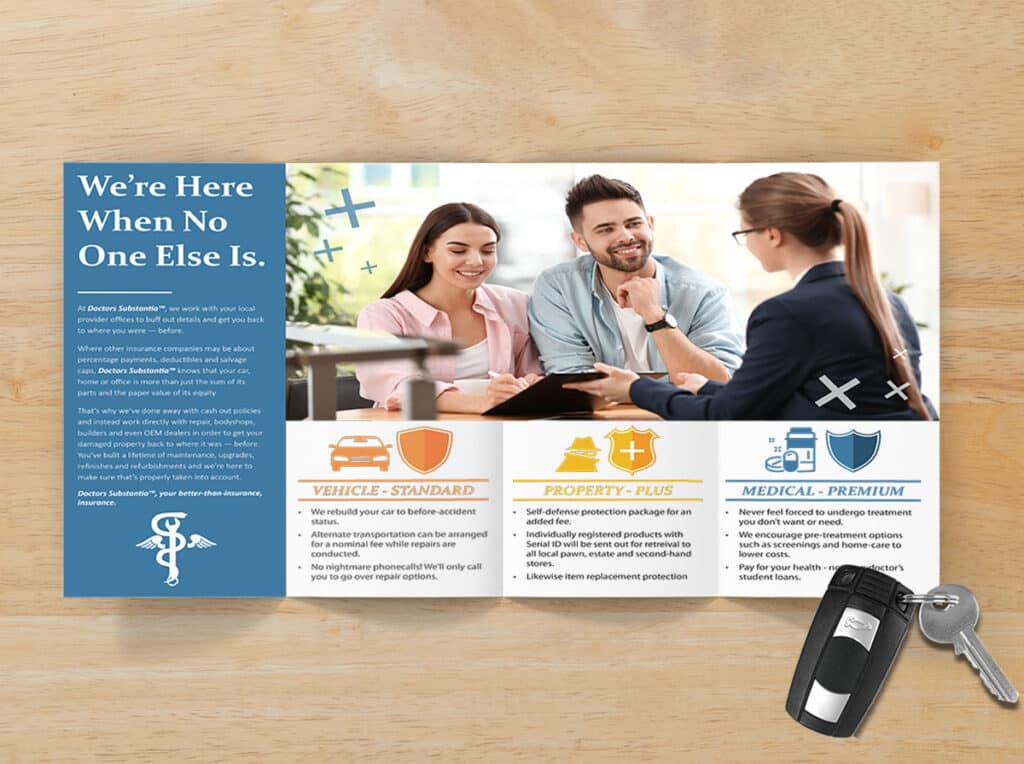 Are Roll-Fold Brochures Right for Your Business?
Now that you know more about roll-fold brochure printing and all that it entails, give thought to whether you should buy these brochures for your business. They'll come in handy if you need to provide your customers with instruction manuals.
Here at PGprint, we also offer an assortment of other types of brochures you can buy. This includes options like:
Half-fold brochures
Tri-fold brochures
Z-fold brochures
French-fold brochures
Double-parallel-fold brochures
You're welcome to choose a different kind of brochure for your business if you want. But after hearing all about roll-fold brochure printing, it should be clear that this brochure deserves to be in contention.
PGprint would love to show you some design options you'll have with roll-fold brochures. If you like what you see, we can move on to the next step and start taking whatever ideas you have and applying them to your roll-fold brochure printing project.
Contact Us Today for Your Roll-Fold Brochure Printing Needs
Some companies print out instruction manuals for their customers that end up making things more complicated than they already are. In a worst-case scenario, this can earn a company a bad reputation and stop people from ordering their products.
See to it that you don't ever run into this problem by using roll-fold brochure printing to your advantage. It'll leave you with a stack of brochures that'll provide a great product demonstration or touch on how the prices for a service stack up.
Reach out to us today to get your roll-fold brochure printing job off the ground.