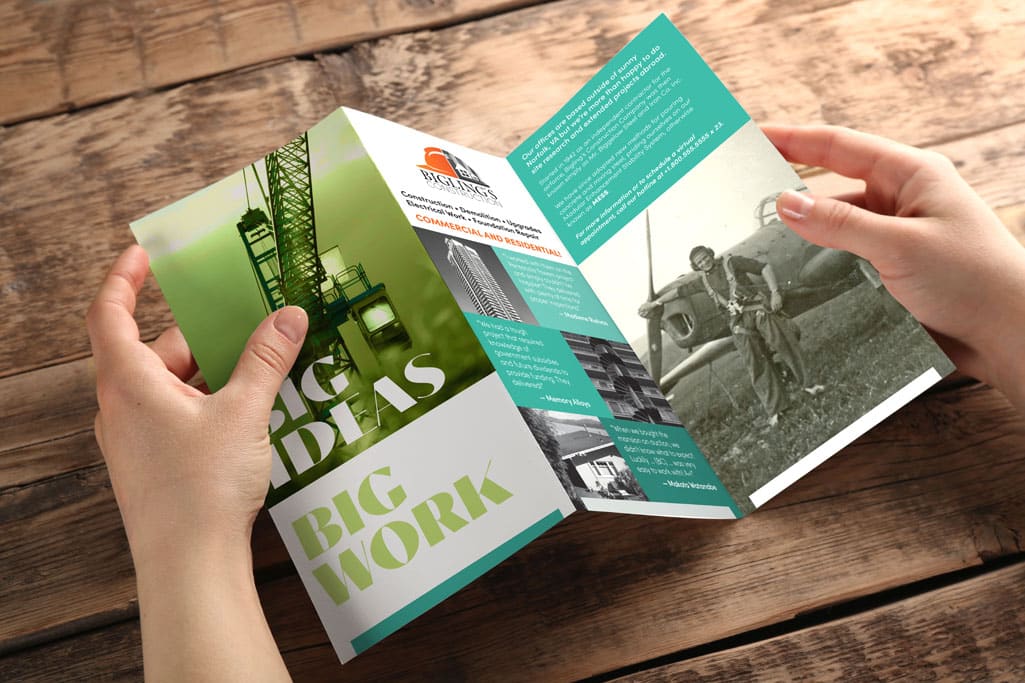 53% of mobile website visitors will leave a webpage if it doesn't load in three seconds. Relying on mobile connection alone at events is a sure strategy to lose customers.
Sometimes the wi-fi is unreliable. Other times consumers aren't ready to commit to a purchase- or even a conversation! They just want the information to grab and go.
A brochure is the best option to immediately connect with customers without the worries of poor connectivity or long lines. In this guide to creating brochures, you'll learn more about six types of brochures, how to design business brochures, and tips for printing brochures that generate leads.
Keep reading to learn more!
Benefits of Creating Brochures for Your Small Business
Creating brochures for your company is an evergreen method of marketing. You can include a plethora of information, far more than a tiny business card, yet still use it to provide important details. Brochures can also be customized to meet seasonal needs, changing menus, advertise services, or reflect new products and collections.
Brochures are a tangible presentation of your brand. The physical connection of a beautifully designed brochure creates trust between a customer and a brand.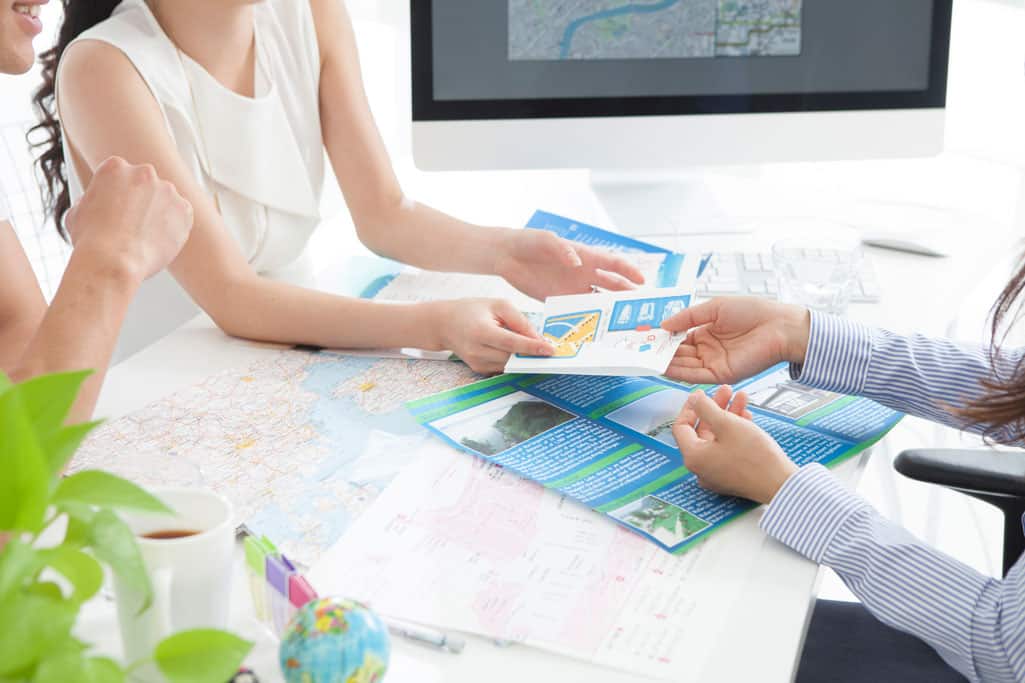 Market Your Brand
Brochures are powerful marketing tools. If you have a new collection of products or services, you can design a brochure specific to them. Create copy and imagery that highlights new features. Then you can include them at your checkout, mail them out to existing customers like a catalog, or hand them out at tradeshows to connect with potential buyers.
Inform Customers
The large size of brochures makes them ideal for inputting relevant information. You can include basic details like your company website, email, phone number, address and even highlights of certain team members. Use a brochure to showcase timelines and upcoming events.
Tell Your Brand Story
Highlight your company origin story on your brochure. Use one flap of your brochure to share why your company was founded, how, and who your team and partners are. This will also help build trust with consumers.
The visual aspect of brochures also makes them the perfect canvas for your brand. Use brand imagery, fonts, and colors to share not a brochure but a storybook of your brand.
Types of Brochures
At PGprint, we have over five different brochure styles. All of our brochures are inexpensive, quick and easy to print, and simple to distribute. They make communicating with consumers a breeze.
Learn more about the different styles below.
Tri-Fold
Tri-fold is the most commonly used brochure style. It consists of three folds that expand into a large landscape printout. It is double-sided and fits into standard envelopes with ease.
Great for landscape imagery
Standard size great for mailing
Most popular style
Half Fold
A half-fold brochure is the size of a folder. You can consider it as a two-page magazine for your brand.
Simple to display
Lots of space
Good choice for product guides and presentations
Roll Fold
This brochure has five panels that sequentially roll out as you go through them. The sequential rollout makes these brochures easy to compartmentalize information.
Roll into a small compact brochure
Good for step-by-step guides and user manuals
Z Fold (Accordion)
These are one of the more commonly used travel brochures. They are very similar to tri-fold brochures, except that they fold in one direction instead of two.
Easy to implement for event itineraries
Good for instruction manuals
French Fold
A French fold is the size of an 8.5″ by 11″ letter sheet. However, it has a four-way fold down the middle and across; when folded you have a tiny little travel-sized square. This makes it great for consumers who are often on the go.
Expands to create plenty of space
Double-sided full-page spread
Good for invitations
Double Parallel
This is a four-panel brochure that has one more panel than a tri-fold. It is good if you just need a little more space for information.
Beautiful to showcase large landscape images
Nice for including more company background
Large size makes them very versatile for business or advertisement
How to Design a Brochure
Don't be intimidated by the thought of designing a brochure. With the right team or tools, you can have a professional brochure in a matter of minutes.
Design Staff
PGprint's design staff can help you customize your brochure with ease. Some design services include:
Logo design
Branding identity
Marketing design
Illustrations
Photo retouching and manipulation
Canva
If you prefer to design your brochure yourself, you can use some of the great digital design tools. Some of these tools have premade templates that you can just edit. Or feel free to start from scratch!
Brochure Marketing Tips
You want your brochure to stand out more than fit in! This will help you create a memorable impression on consumers. But there are some pointers on what to include on your brochure no matter your goal!
Basic Contact Information
Don't go without it! Make sure you have on your brochure at least:
Email
Website
Phone and/or social handles
People need to be able to follow up for more information. Make it easy for them to get in touch with you!
Mixed Media
A brochure that is all text is overwhelming. A brochure that is all images won't communicate much. Make sure to include a healthy ratio of images to text. Pay around with font size, so it is legible, and use headers throughout to highlight key points.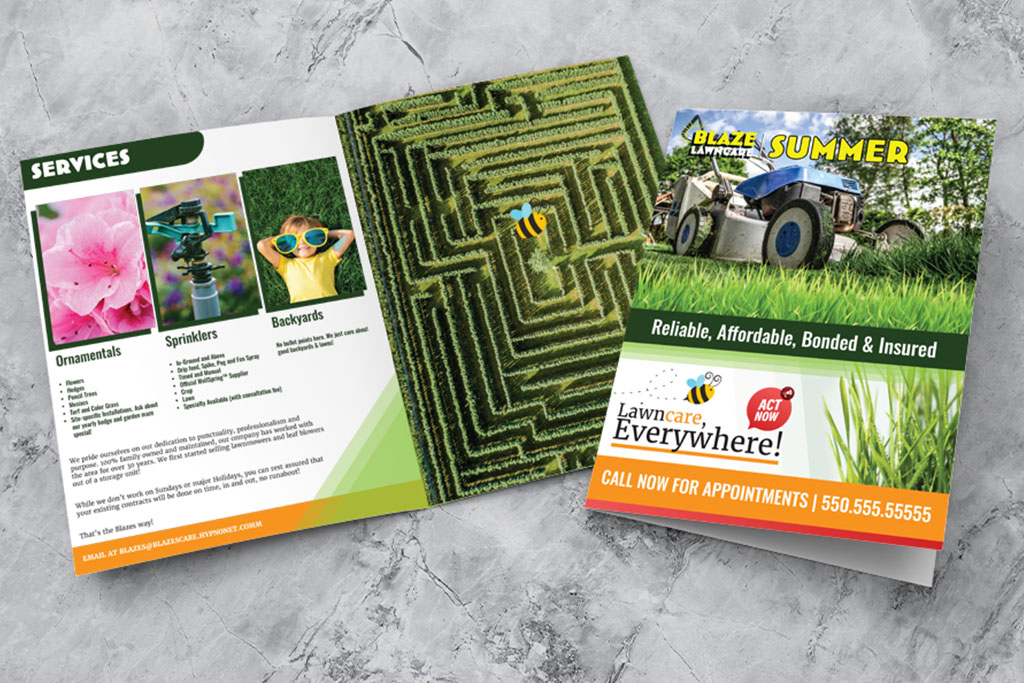 Include a Call to Action
Incentivize consumers with a brochure exclusive coupon. This can be 10% off when they subscribe to your email list. You can also include a specific code in your brochure that can be used to motivate purchase intent.
If you're looking to boost engagement, you can include a QR code on your brochure. Link the QR code to your Instagram, Facebook, website, or anywhere you want consumers to shop, connect or follow. This will ensure engagement well beyond the time in which they received your brochure.
Use Business Brochures to Elevate Your Brand
Creating brochures is easy with PGprint. Select from one of our six brochure templates. Pick a quantity that works for your needs and budget. Then design it yourself or have our design staff lend their expertise!
Use PGprint brochures to stand out at your next tradeshow, pop-up, or retail experience. Brochures are an interactive way to connect with customers. It gives them a preview of your brand and makes it easier to stay in touch.
Get in touch for a custom printing quote today and elevate your brand!