Templates are set up on each product page to guide you through proper file creation. The bleed, trim, and safety areas are clearly marked. With our templates for folding brochures such as tri-folds, the fold areas are also marked. Be sure to read all the information on the template itself as each one may have slightly different requirements. Using our templates and arranging your files as noted in the guides will assure that your job can be printed correctly and on time.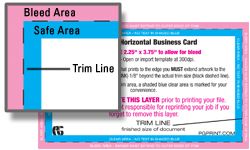 ---
Our templates give you the ability to place in graphic design programs such as Adobe® InDesign, Adobe® Illustrator, Adobe® Photoshop, Adobe® Pagemaker and Quark XPress®.
Our templates are downloadable PDF's that contain page dimensions, bleed area indicators, trim placement, and safe area indicators. They also include folding line placement for your folded pieces.
PGprint templates are easy to use. Simply download the template you need and place it within your document to verify the accuracy of your content. When you are confident that your file is ready for print, remove the template and upload your file to PGprint for professional printing that is always correct and on time!
---
How to download product templates
1) Go to any product, scroll down and click on the the "Templates" tab
2) Download the template size you want