Custom Folded Greeting Cards
Available in vertical or horizontal configuration.
Wide variety of paper choices!
High quality printing at great prices!
Estimated shipping rates based on commercial address
PGprint offers a vast selection of folded greeting cards for our customers to choose from. Our custom folded greeting cards are the choice small business owners prefer because of all the possibilities they provide. Your folded greeting card can serve as an invitation for a special event or as an introduction to a new product or service your company offers. It can also stand alone as a note to reach out to simply say hello. Whether it is for an occasion or not, folded greeting cards can leave a lasting impression on the recipient.
PGprint's folded greeting cards feature an array of matte and gloss cardstocks. They are available in full color and full bleed at no extra cost. Additionally, all of our folded greeting cards can be personalized by adding your own text, images, artwork, and company logo. All you need to do is design your folded greeting card. We print the cards to suit your preferences and get them to you at an affordable price, all while meeting your deadline.
If you have been considering investing in attractive, impressive custom folded greeting cards, call us at 888.288.7518, use our chat service, or email us at [email protected] to learn more about our printing services. You can count on us for the high quality and dependable service you've come to expect with PGprint. For questions and assistance with your design and any other matters concerning your folded greeting card, ask to speak with one of our skilled support staff.
Folded Greeting Cards | Custom Folded Greeting Cards | Folded Greeting Card
Folded Greeting Card Templates
PGprint product templates provide the specifications required to ensure your artwork is print-ready. The template files are PDF formatted documents that are inserted directly into your artwork to provide guidelines for size, bleed, trim and folding. Remember to remove our template from your final artwork before submitting your files to our servers.
You can upload your own custom design and see a live preview. You approve, we print and deliver.
Guidelines To Go By
We want to make sure your print project goes how you envision it. Be sure to use our layout guides to ensure your file(s) is set up correctly for best printing results.
Color Mode
CMYK is preferred and recommended. If you upload your file in RGB color mode it will be converted to CMYK and the final product could end up differently than expected.
Resolution
Files are preferred to be at 300 dpi for best print quality. Files lower than 300 dpi could result in "pixelation" of images.
File Types Accepted
We prefer PDF files but also accept PSD, JPG, TIF, DOCX, PUB, EPS, PNG or AI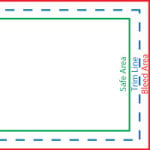 File Setup
Creativity shouldn't have limits, but there are some file setup guidelines that should be observed when preparing your file for print.
Safe Area
Text and other design elements that you don't want to get trimmed in final production should stay within this area. The safe area is minimally 1/8″ from the Trim Line.
Trim Line
This is where the finished product will be cut for its final size.
Bleed Area
This is the area that is going to be cut off in final production. Make sure this area is filled with background image and/or color so there is no white space left when it is trimmed.
Customer Reviews – Folded Greeting Cards