Wide variety of paper choices!
High Quality Printing at Great Prices!
Full Color and Bleed!
Select from a variety of professional templates
Estimated shipping rates based on commercial address
When it comes to notepad printing, people need to check-out all that PGprint has to offer. We produce the finest custom notepad printing in the industry for a fraction of the cost charged by our competitors. How do we do it? Simple. We've been in the business for a long time, serving major corporations and Fortune 100 Companies. We are now delivering impressive notepads for individual use and to small businesses, all efficiently and at an affordable cost. Whenever our friends from Atlanta are searching for the most exceptional notepad printing professionals, they know to contact PGprint.
Atlanta Notepad Printing
With 500,000 residents who call it home, Atlanta, Georgia is just southeast of PGprint at 1007 Industrial Park Drive, Suite 200 in Marietta. Many of the companies we do business with love to stick attractive personalized notepads into take-home bags with people who attend their seminars or trade shows. Our custom notepads can be intended for so many other things besides just marketing. They are an inexpensive way to put your Atlanta company's logo and phone number in plain view. Many times, our notepads take on a life of their own as notes to the dry cleaners, tips to the babysitter, project to-do lists for mom and dad, and the age-old standby shopping list.
Atlanta Notepads
Often, we discover that many of our clients start off with a more modest order of custom notepads. The customer then discovers that these notepads are in big demand and they are like little personal calling cards that can be left all over the community. They have your business' logo, name, product and identifying data clearly in view for all to see. The subsequent orders often follow once our customers understand just exactly how invaluable custom notepads really are!
For additional information about notepad printing, local Atlanta residents can reach us at: (678) 223-7808 or toll-free 888.288.7518, use our chat service or email us at [email protected] to learn more about our printing services.
Atlanta Custom Notepads | Atlanta Notepad Printing | Atlanta Notepads
Notepad Templates
PGprint product templates provide the specifications required to ensure your artwork is print-ready. The template files are PDF formatted documents that are inserted directly into your artwork to provide guidelines for size, bleed, trim and folding. Remember to remove our template from your final artwork before submitting your files to our servers.
3″ x 3″ Notepad Template
Download
3″ x 8″ Notepad Template
Download
4″ x 4″ Notepad Template
Download
4″ x 6″ Notepad Template
Download
4″ x 11″ Notepad Template
Download
5.5″ x 8.5″ Notepad Template
Download
8.5″ x 5.5″ Notepad Template
Download
8.5″ x 11″ Notepad Template
Download
Convert your file to pdf format

here

.
You can upload your own custom design and see a live preview. You approve, we print and deliver.
Guidelines To Go By
We want to make sure your print project goes how you envision it. Be sure to use our layout guides to ensure your file(s) is set up correctly for best printing results.
Color Mode
CMYK is preferred and recommended. If you upload your file in RGB color mode it will be converted to CMYK and the final product could end up differently than expected.
Resolution
Files are preferred to be at 300 dpi for best print quality. Files lower than 300 dpi could result in "pixelation" of images.
File Types Accepted
We prefer PDF files but also accept PSD, JPG, TIF, DOCX, PUB, EPS, PNG or AI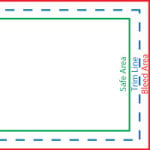 File Setup
Creativity shouldn't have limits, but there are some file setup guidelines that should be observed when preparing your file for print.
Safe Area
Text and other design elements that you don't want to get trimmed in final production should stay within this area. The safe area is minimally 1/8″ from the Trim Line.
Trim Line
This is where the finished product will be cut for its final size.
Bleed Area
This is the area that is going to be cut off in final production. Make sure this area is filled with background image and/or color so there is no white space left when it is trimmed.
Customer Reviews – Atlanta Notepads